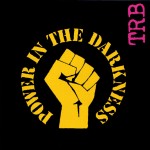 The album was a total rallying cry…a call to arms, so to speak, where the arms were guitars and the ammunition was the lyrics. At least, that's how Tom Robinson Band's debut album, "Power In The Darkness", struck me when I first heard it back in 1978.
TRB formed in England in 1976, right at the dawn of the punk explosion. While not a true punk band, they managed to adopt the punk rock ethos and mix their political views into the mix, making a big splash in their native UK. The original lineup of the band included Tom Robinson on bass and vocals, Danny Kustow on guitar, Mark Ambler on organ and piano and Dolphin Taylor on drums.
In England, "Power In The Darkness" reached the top five and spawned successful singles including the bubblegum flavored "2-4-6-8 Motorway," the scorching "Don't Take No For An Answer," and the ferocious "Up Against The Wall." Meanwhile in America, their debut album included the British EP "Rising Free" as a bonus disc, and received some FM radio airplay, but for the most part went unnoticed. Which is a shame because the record is an articulate classic, chock full of memorable tunes like "Too Good To Be True," "Ain't Gonna Take It," "Man You Never Saw," "The Winter Of '79" and one of the greatest car songs of all time, "Grey Cortina" (a previous Song Of The Day).
Todd Rundgren was brought in to produce their second album, "TRB Two." By this time, there was much infighting within the group and original keyboardist, Mark Ambler, quit the lineup. The addition of Rundgren into the mix added additional problems when the group gave him the final say as to what songs they should record for the record. Overall, the songs up for grabs weren't as good as on their debut and Rundgren's picks included several songs that their drummer, Dolphin Taylor, absolutely did not want to record. As a result, Taylor opted to leave the group days before recording was to begin. Preston Heyman was brought in on drums from Kate Bush's band and Ian "Quince" Parker filled the keyboard slot.
The second album didn't have the impact overseas that their debut did despite some terrific songs, especially the record's first single "Bully For You," which was directed at Taylor and was co-written by Peter Gabriel. The band toured America one last time in 1979, where I saw them at The Capitol Theater in Passaic New Jersey. Several months after the tour ended, they disbanded.