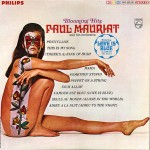 We've all heard about the British Invasion in rock music that took place in the early 1960s, but what about the late '60s French Invasion?
Never heard of it? That's because it consisted of only one record by one artist. OK, technically you could argue that Petula Clark was also part of the French Invasion, but her single "Downtown" is widely recognized as part of the British Invasion. But let's not split hairs over facts…
The French Invasion took place in 1968 with an instrumental record called "Love Is Blue" by Paul Mauriat, which is the only number-one hit by a French artist to top the Billboard Hot 100 in America.
But "Love Is Blue" was not Mauriat's first American success. In the early 1960s, he co-wrote a hit song under the pseudonym Del Roma called "Chariot," which became a big hit for Petula Clark. The record was successful all over the world, except in America. In America, the song was given English lyrics by Arthur Altman and Norman Gimbel and became "I Will Follow Him," a 1963 number one single by Little Peggy March.
During the 1950s, Paul Mauriat was the music director for French singers Charles Aznavour and Maurice Chevalier and toured the world with both of them.  In 1965, Mauriat established Le Grand Orchestre de Paul Mauriat and began to release what would add up to hundreds of recording for the Philips record label over the next 28 years. He also arranged 130 recordings for Aznavour between 1967 and 1972.
"L'amour est bleu (Love is Blue)" was written by French composer, André Popp and was originally sung by Greek singer Vicky (aka Vicky Leandros) where it won fourth place in the Eurovision Song Contest for Luxembourg in 1967.
Mauriat's recording of the song featured a sweeping orchestral arrangement combining harpsichord with a hint of rock guitars and drums thrown in for good measure. The song was released on the album Blooming Hits in 1967 which topped the charts for five weeks, knocking The Beatles Magical Mystery Tour out of the top slot. The album cover featured an attractive naked lady with a butterfly tattoo on her face. But let's face it; nobody was really looking at that butterfly anyway…
The album was typical easy listening fare for the late '60s, featuring covers of current rock hits like The Beatles' "Penny Lane," Frank and Nancy Sinatra's "Somethin' Stupid," Sandie Shaw's "Puppet On A String," Petula Clark's "This Is My Song," Sonny Bono's "Mama" and Herman's Hermits "(There's A) Kind Of Hush."
Mauriat would only reach the singles charts two more times after "Love Is Blue," with his recordings of "Love In Every Room" and the title theme from the movie "Chitty Chitty Bang Bang."
Mauriat died on November 3, 2006 at the age of 81.