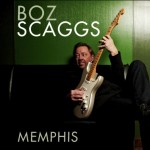 Boz Scaggs has led a dual career over the years. On one hand, he's been a master bluesman who cut his teeth recording with the likes of Steve Miller and Duane Allman, and then there's the silky-smooth soul man who became a platinum- plated superstar during the late '70s. Fortunately for his fans, both sides of Scaggs are present on his essential new album, Memphis.
The record was recorded in three days at Royal Studios in Memphis, the hallowed ground where Willie Mitchell once worked with Al Green on his biggest hits. Matched with sympathetic backing from drummer Steve Jordan (who also produced), Ray Parker Jr. on guitar and Willie Weeks on bass, plus special guests including Spooner Oldham on keyboards and Lester Snell on string arrangements, Scaggs has delivered his best record since Silk Degrees.
The soul man is evident on well chosen covers like Tony Joe White's classic "Rainy Night In Georgia," Mink DeVille's "Mixed Up Shook Up Girl," Steely Dan's Countdown To Ecstasy rarity, "Pearl Of The Quarter," and today's Song Of The Day, "Love On A Two-Way Street," which was a hit for the Moments in 1970, and again for Stacy Lattisaw in 1981.
The album's opener "Gone Baby Gone" sounds like a long-lost outtake from Silk Degrees, and along with the album's closer "Sunny Gone," is one of two originals here. And Scaggs would have been totally remiss if he'd gone all the way to Royal Studios and had not taken a shot at an Al Green cover. His superb version of Green's "So Good To Be Here" features an equally superb string arrangement by Willie Mitchell.
Boz's grittier side can be felt on his version of Mink DeVille's "Cadillac Walk," featuring a guitar part inspired by Buddy Miller, and also on "Dry Spell" with guests Keb' Mo on guitar and Charlie Musselwhite on harmonica.  Elsewhere, Scaggs takes the blues standard "Corrina, Corrina" out for a leisurely stroll, and then kicks it up a notch on Jimmy Reed's sinewy "You Got Me Cryin'" (featuring ace guitar work by Rick Vito).
In the hands of a less adept singer, this album wouldn't be much more than musical comfort food for the baby boomer generation, but Scaggs brings something fresh and real to each song making this exceptional new record a must have.