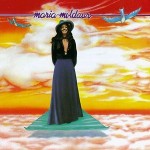 You either loved it…or you completely loathed it, but there's no doubt that if you were around in 1974, you could not avoid Maria Muldaur's "Midnight At The Oasis."
Today's Song Of The Day was released on Muldaur's eponymously titled first solo album which soared all the way to the #3 position on the Billboard charts on the wings of this David Nichtern-penned top-ten single. Yet, most people don't know much about Maria Muldaur before she sent her camel to bed in back in 1973.
Muldaur's maiden name was Maria D'Amato and she got her start performing as a member of the Even Dozen Jug Band alongside future Lovin' Spoonful member John Sebastian, David Grisman and Stefan Grossman. The Jug Band was part of the same Greenwich Village folk scene that spawned Fred Neil, Phil Ochs and Bob Dylan. D'Amato then went on to join the Jim Kweskin Jug Band where she met her future husband Geoff Muldaur. After Kweskin's outfit split up, Geoff and Maria went on to release two marvelous down-home old-timey albums for Reprise records. The first one called Pottery Pie was released in 1968, and a second called Sweet Potatoes followed in 1971.
Muldaur went solo after their marriage split up in 1972 and released her first album the following year. On the album, Muldaur wraps her precious pipes around the songs of Dolly Parton ("My Tennessee Mountain Home"), Dr. John ("Three Dollar Bill") and Jimmie Rodgers ("Any Old Time"). It was also a springboard for several then-unknown songwriters including Wendy Waldman whose "Vaudeville Man" and "Mad Mad Me" were both included, as well as Kate McGarrigle's wonderful "Work Song."
Producers Joe Boyd and Lenny Waronker assembled a who's who of the current rock and jazz scene for backing support on the album,  including Clarence White, Ry Cooder, David Lindley, David Grisman, Dr. John, Jim Dickinson, Spooner Oldham, Chris Ethridge, Klaus Voorman, Freebo, Ray Brown, Dave Holland, Jim Keltner, Bettye LaVette and Jim Gordon. But it was the lyrical and languid guitar solo of the great Amos Garrett (who also played on the Geoff & Maria records) that lights up the album's signature song.
During the late 70s, Muldaur sang backing vocals with The Jerry Garcia Band. She's released over 30 albums over the years and continues to release folk and gospel albums to this day.