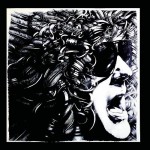 After the demise of Mott The Hoople, Ian Hunter's solo career got off to a strong start with his 1975 eponymously titled debut album. Not that the album was by any means a hit upon release, however it did have standout tracks like "Once Bitten Twice Shy" (brought to the charts x years later by Great White), "It Ain't Easy When You Fall" and "The Truth, The Whole Truth, Nothing But The Truth" that are some of Hunter's best-loved tunes.
But his second solo record All American Alien Boy was poorly received and sold minimally. As a result, his third album Overnight Angels didn't even receive a release here in the United States in 1977, and is still unavailable today. (Not even on Spotify.) At the time, Hunter was in the process of changing management and Columbia Records in the states wouldn't release the record until Hunter found new management.
The album was produced by Roy Thomas Baker who also produced six Queen albums (including Sheer Heart Attack and A Night At The Opera), several hit albums by The Cars (including their first three long players) and albums by Devo, Foreigner and Alice Cooper. Baker brought a huge sound to the record that was supported by Hunter's band including Earl Slick on guitar (who had just come off of David Bowie's StationToStation tour, Pete Oxendale on keyboards, Rob Rawlinson on bass and Dennis Davidson on drums.
It was his most American sounding album, and Hunter later disavowed it as forced. While nowhere near the standard of his first two albums, it does feature great vocals by Hunter and a clutch of terrific songs including the title track, the album opener "Golden Opportunity," "Justice Of The Peace," "The Ballad Of Little Star" and today's Song Of The Day. Later copies of this record were amended by the addition of the B-side "England Rocks" (also from the Overnight Angels session) which he would later record as "Cleveland Rocks," becoming one of his signature songs.
A new band and a change in record labels brought success the following year with the release of his hit album You're Never Alone With A Schizophrenic.