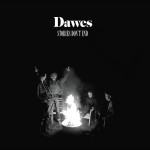 Dawes make musical catnip circa 1976 for Mumford-loving, aging boomers who are desperately trying to stay musically relevant, while never ever leaving their musical comfort zone. And along with Fleet Foxes, Dawes have created a sound that is grounded in well-written songs, hummable melodies, plush harmonies and poetic lyrics that are chock full of credibility, offering a welcome relief from the jingoistic sing-a-long fare provided by musical peers like Mumford & Sons and The Lumineers who dominate the charts these days with their brand of feel-good pep rally music.
Too bad it isn't 1976, for if it was, Dawes' latest album Stories Don't End would be selling like hotcakes standing head and shoulders tall next to records by The Eagles, Crosby Stills & Nash, Joni Mitchell, Neil Young and Jackson Browne. (While we're name checking Jackson Browne, it should be noted that Dawes vocalist Taylor Goldsmith, is Browne's vocal twin on this record.) While it's tempting to say that Dawes' retro sound is pure mimicry, the Goldsmith brothers' seventies-centric songwriting was no doubt partially informed by their musician father, Lenny Goldsmith who was a member of bands Sweathog and Tower of Power during the 1970s. That said, the music that brothers Taylor (guitars and vocals), and Griffin Goldsmith (drums), Wylie Gelber (bass) and Tay Strathairn (keyboards) make is certainly worthy of a wider audience.
But first a little history…
After the group Simon Dawes abandoned their modern post punk sound for folk rock, they changed their name to just plain Dawes and became part of a Laurel Canyon, California jamming collective that also included Conor Oberst (aka Bright Eyes), Bentmont Tench of Tom Petty & The Heartbreakers and Chris Robinson of The Black Crowes. These informal jams informed the recording of their well-received 2009 debut album North Hills. More non-stop touring ensued followed by a second album called Nothing Is Wrong that appeared in 2011 and peaked at #23 on the album charts.
Dawes recently released their third album in five years, and like any good Neil Young album, Stories Don't End begins and ends with versions of the same song; in this case the song is "Just Beneath The Surface." It also serves as somewhat of a mission statement – "Just beneath the surface, there's another one of me / At the root of all my trouble, in the twitch before I speak,"- as if to say that if you scratch beneath the surface, there's much more to this record than its mid-seventies sound.
The very poppy "Hey Lover" sounds as it if came flying off of a Loggins And Messina album, and probably would have topped the charts back in the day. The song was written by ex-Simon Dawes band mate, Blake Mills who supplies the clever couplet "I want to raise with you, and watch our younglings hatch / Fucking make the first letters of their first names match."
Today's Song of the Day is told from the perspective of a young girl who is an outsider but desperately wants to fit in, and is one of a few songs on the record with guitar teeth. The album's first single "From A Window Seat," supplies lyrics about air travel from the perspective of a window seat, and glides along on a percolating bass line courtesy of Wylie Gelber and a Stills-esque guitar solo from Taylor Goldsmith.
It's not all living in the past on Stories Don't End, for this record they worked with producer Jacquire King (Kings of Leon, Norah Jones, Tom Waits) and expanded and updated their sonic pallet to include elements of Dire Straits and My Morning Jacket. Baby steps they are, but on a record as solid as this one, why try to fix what isn't broken.