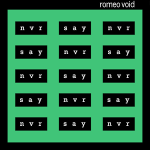 Patti Smith, Chrissie Hynde, Debbie Harry, Belinda Carlisle, Susanna Hoffs, Debora Iyall – all of these women rockers from the punk and new wave era became huge superstars…except for one.
It's not like Debora Iyall of Romeo Void didn't possess a coolly detached emotional voice…and it certainly had nothing t do with the fact that her indelible self-penned songs had memorable hooks and even more memorable lyrics.
Debora Iyall's lack of popularity came down to her looks, or more specifically, her weight. Iyall's weight pretty much resulted in Columbia Records pulling all support for Romeo Void because she refused to do anything about it when the company confronted her.
Romeo Void formed in San Francisco on Valentine's Day 1979 and quickly became the darlings of the new wave dance music scene with their highly danceable songs that featured Iyall's sultry voice and intelligent, confrontational lyrics. The group consisted on vocalist Debora Iyall, Peter Woods on guitar, John "Stench" Haines (of Pearl Harbor & The Explosions) on drums, Frank Zincavage on bass and Benjamin Bossi on saxophone.
Iyall was primarily influenced by Patti Smith whose popularity came down to her music and lyrics, and not some pimped out beauty queen sex symbol image. Her Native American heritage (she is from the Cowlitz tribe) and robust weight allowed her to perfectly portray the part of a punk outsider while performing, creating a unique bond between her and the audience. Her sultry voice, which was reminiscent of Chrissie Hynde's, oozed sensuality, fuelling two of the most sexually frank and infectiously danceable new wave singles, today's Song Of The Day, "Never Say Never" and "A Girl In Trouble (Is A Temporary Thing)"
After releasing a single for the San Francisco record label 415, Romeo Void cut their debut album; It's A Condition which was produced by 415's house producer David Kahne. (Kahne would go on to produce records for the likes of The Bangles, Bruce Springsteen, Paul McCartney, The Strokes and many others.)  415 Records was an independent San Francisco label founded by Howie Klein, who later helmed Reprise Records during the 1980s. The album's melding of new wave, jazz, funk and punk became an underground hit attracting Ric Ocasek of The Cars, who became a big fan of the group.
Ocasek offered to record them at his Synchro Sound Studio in Boston resulting in the Never Say Never EP that contained today's Song Of The Day. The song went on to become a big dance club hit, with its confrontationally frank hook "I might like you better if we slept together." It was later featured in the 1984 film Reckless starring Jennifer Grey, Aiden Quinn and Daryl Hannah. The success of the single also led to a distribution deal between Columbia Records and 415 garnering major label distribution and a shot at the big time for the group.
For Romeo Void's 1982 second album Benefactor, David Kahne was replaced by Ian Taylor on production duties and John Haines was replaced by Aaron Smith on drums. The album was a far more commercial affair focusing on dance tunes with less confrontational lyrics. It included an edited version of "Never Say Never" which garnered video play on MTV, but none of the other tracks became hits.
David Kahne was back in the production chair for their third and final album Instincts. In it, the band followed their instincts and reverted back to more provocative ways, resulting in the hit "A Girl In Trouble (Is A Temporary Thing)." The song was written in response to Michael Jackson's "Billy Jean," and it climbed up to #35 on the pop charts.
While touring to support the album, Columbia Records pulled the plug on promotion support for the record because they saw Iyall's unwillingness to lose weight as a liability. Shortly thereafter, the group decided to call it quits. Today, Iyall occasionally records and performs with Peter Dunne of Pearl Harbor & The Explosions.