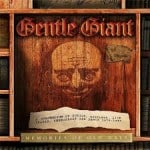 They were one of the premier Progressive Rock groups in their day…right up there with King Crimson, Yes and Genesis. With a stellar lineup of brothers, Derek and Ray Shulman, Kerry Minnear, Gary Green and John Weathers, the Giant were adept multi-instrumentalists who would dazzle in concert with their intricate vocal arrangements and odd time signatures.
The group's "purple period" of greatness was roughly from the 1972 release of Octopus through 1975's Free Hand, and encompassed the albums In A Glass House (1973) and The Power And The Glory (1974). In America, their early albums were released by Columbia Records and starting with The Power And The Glory, they were released by Capitol. They, once again, returned to Columbia for Civilian, their final album which was released in 1980.
In England, their early albums through 1974 were all released on the Vertigo (or Vertigo/WWA) label, and all records from Free Hand onward were released by Chrysalis. This past week a new import five CD set called Memories Of Old Days – A Compendium Of Curios, Bootlegs, Live Tracks, Rehearsals and Demos 1975-1980 was released covering the Chrysalis years.
By 1977 Gentle Giant were trying to score a radio hit. Their last three studio albums featured shorter tracks in an attempt to get themselves played on radio. However, Punk Rock was burgeoning and the band was totally irrelevant to that fan base, and with their new radio friendly material, they were also becoming irrelevant to their own fan base as well.
Much of the material from Memories was culled from a 12-hour rarities collection released as an import in 2004 called Scraping The Barrel which was programmed by Dan Bornemark with the participation of the members of Gentle Giant. That collection featured four CDs, plus another 8 hours of material presented in the MP3 format. Memories Of Old Days is a five-CD distillation of that 12-hour set, featuring much of the material that was originally presented only in MP3 format. While some of the recording quality is subpar, the band's performances are never less than exceptional.
This collection is for die-hard fans only and features tour rehearsals from 1975, 1977 and 1980, BBC concert recordings from 1978, and studio sessions from Free Hand, Interview and Giant For A Day. (For the uninitiated, I would recommend passing on this set and beginning with either Free Hand or The Power And The Glory.)
Today's Song Of The Day originally comes from The Power And The Glory and is seen here from a 1978 performance of unknown origin. This song turns up in several different guises on Memories, as it was a staple of their concert sets from 1974 onward.  I was fortunate enough to see the band on the day before the Bicentennial (7-3-76) at the Calderone Concert Hall in Hempstead, New York, and I'm here to tell you that they were one of the most technically proficient and exciting bands I've ever seen!
By 1980 and the advent of Punk and New Wave, the purveyors of prog walked the earth like dinosaurs on the verge of extinction, so Gentle Giant packed it in. Derek Schulman went on to become a top A&R guy for Mercury Records and was responsible for signing Bon Jovi to the label…but let's not hold that against him…