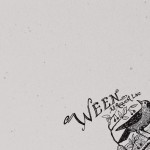 This is the 2003 "All Request Live" version of a song originally released on the 1994 "Pure Guava" record by Ween.
Before anyone gets too excited, I'm a Jew and so is Aaron Freeman (aka Gene Ween), so don't get it in your head that this track is slamming Jews, Rastas or even junkies. It's just Ween, well, being Ween.
The band has musically touched on its Jewishness before with the song "I Can't Put My Finger On It" from the album "Chocolate And Cheese" that usually features an extended Klezmer intro in concert. And Freeman has been getting back in touch with his Jewish roots by studying to be a Bar Mitzvah.
The 1994 "Pure Guava" version of this song is a bedroom recording that hangs on its choppy bass line with lots of electronics and modified vocals, as was the stoner Ween tradition of the day. This version is far more freewheeling in its execution and features some stunning shredding courtesy of Mickey Melchiondo (aka Dean Ween).
The "All Request Live" record was recorded live in the studio and broadcast over the internet in 2003, a novelty for the time. All of the songs included on the broadcast and record were requested by fans.
Original post date: 9/8/12