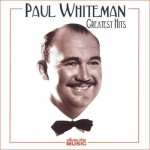 Paul Whiteman was one of the biggest selling artists of the 1920s, and led one of the best-loved sweet bands of all time. Sweet bands were society or café orchestras. They played music for listening and as a background for dining and conversing, as opposed to swing bands whose music was the main attraction and played specifically for dancing.
Many jazz fans frowned down on Whiteman's sweet approach to music because he believed that Jazz music could and should be notated, rather than improvised. To that end, Whiteman wrote more than 3000 arrangements for his orchestra. Whiteman also liked to write for larger orchestras in a time when most dance bands consisted of 8-10 players.
However, no matter what the music snobs thought, he still sold more records than virtually anyone else during his time, and is well respected for his contributions to music today.
Some of his biggest records include the number one hits "Whispering," "The Japanese Sandman," "Wang Wang Blues," "My Mammy," "Hot Lips," "Parade Of The Wooden Soldiers," "Cherie," "Say It With Music," "Play That Song Of India Again," "Do It Again," "Three O' Clock In The Morning" and "Linger Awhile," and there were lots more from where these came from. However, Whiteman is probably best remembered for the commissioning and debut of today's Song Of The Day, George Gershwin's "Rhapsody In Blue."
"Rhapsody In Blue" premiered on February 12, 1924 in New York at a show billed as An Experiment In Modern Music featuring George Gershwin on piano. The performance took place with John Phillip Sousa and Sergei Rachmaninoff present in the audience.
Whiteman recorded the piece twice. The original was recorded in 1924 acoustically with Gershwin playing the piano parts and released on Columbia Records. He recorded the piece a second time in 1927 electrically. That recording, released on the RCA Victor record label, was inducted into the Grammy Hall Of Fame in 1974. For today's Song Of The Day, I've chosen the original recording with Gershwin on piano. There is also some great footage of Whiteman and the Orchestra performing this piece from the 1930 film King Of Jazz. Whiteman's orchestral approach to Jazz on "Rhapsody" was a big influence on Miles Davis and Gil Evans and their seminal recordings Birth Of The Cool, Porgy And Bess and Sketches Of Spain.
Some of the greatest jazz men of their day either got their start or moved through Whiteman's orchestra including Bix Beiderbecke, Frankie Trumbauer, Joe Venuti, Eddie Lang, Jack Teagarden, Bunny Berigan and Fletcher Henderson. Paul Robeson and Billie Holiday both sang their way through his ranks, and Whiteman also billed a singing trio with the band called The Rhythm Boys whose members included a young Bing Crosby. Whiteman also provided music for six Broadway shows and was responsible for producing more than 600 recordings.
One of the finest compilations of Whiteman's music was released by Collector's Choice Music back in 1998, and is still readily available today.