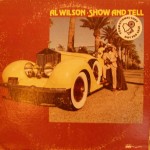 Today's Song Of The Day is the signature hit by soul great Al Wilson. While Wilson is closely identified with the song, he wasn't the first artist to record this classic hit. That honor went to none other than Johnny Mathis, who recorded it in 1972, a year before Wilson took it to the charts.
Al Wilson spent his formative years kicking around San Bernardino, California working odd jobs, singing in soul groups and developing comedy routines with an eye towards a career in entertainment, before joining the Navy and singing in the enlisted men's chorus.
After two years in the Navy, Wilson relocated to Los Angeles and signed with manager Marc Gordon who got him an audition with Johnny Rivers who ultimately signed him to his Soul City record label. Rivers produced the session that resulted in the Northern Soul classic "The Snake" that made it up to #27 on the pop charts in 1968. Several other minor chart singles followed on the Soul City imprint including a cover of Creedence Clearwater Revival's "Lodi" which reached the #67 position on the charts.
By 1973, Wilson was signed to the Rocky Road record label, a subsidiary of Bell Records, where he released the album Show And Tell and its title hit single which sold over 2 million copies. The song was ultimately named the Number One Single Of the Year in 1973 by Cashbox. Most of the songs on the album (including the title hit) were written by Jerry Fuller.
Jerry Fuller was known for writing the Ricky Nelson hits "Travelin' Man," "A Wonder Like You," "Young World" and "It's Up To You." He also discovered Gary Puckett & The Union Gap and wrote their hits "Lady Willpower," "Young Girl" and "Over You," plus he also wrote and produced hits for The Peanut Butter Conspiracy, O.C. Smith ("Little Green Apples") and The Knickerbockers ("Lies").
Wilson's follow up single from 1974, "The La La Peace Song" made it into the top twenty of the R&B charts, but suffered by a competing version by O.C. Smith that was also climbing the charts at the same time. Two years later, Wilson scored a #3 R&B single with "I've Got a Feeling (We'll Be Seeing Each Other Again)" which also made it into the top thirty of the pop charts. His final chart single was "Count The Days" in 1979.
Wilson continued performing in clubs and soul reviews for the next 25 years, long after the hits stopped coming.  In 1989, Peabo Bryson took "Show And Tell" to the top of the R&B charts, and in 2007 Wilson lost many of his original master tapes when his home recording studio burned down. Wilson died in April of 2008 of kidney failure at the age of 68.
I posted this ear worm of a song the other day sans commentary for laughs, and I haven't been able to get it out of my head since…such is the stuff that makes a hit record, an everlasting hit record…