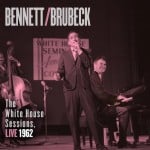 Every so often the reissue gods bestow upon us a truly special recording that music fans never knew existed.  Recently, one such recording was unleashed upon an unsuspecting public by our friends at Sony Legacy, featuring a musical summit that took place between Tony Bennett and Dave Brubeck on August 28, 1962 at The White House.
The event was a special concert recorded at the Sylvan Theater (at the base of the Washington Monument) welcoming a new group of volunteers (or interns as they are now called) that had come to Washington DC to work for the government.
The show captures the two entertainers at the height of their powers. Bennett's "I Left My Heart In San Francisco" had been released 17 days prior to the event and was climbing the charts. Brubeck was basking in the afterglow of his classic "Take Five" recording. It was also the first time of two, that Bennett and Brubeck shared the stage together in concert. Fans would have to wait until the 2009 Newport Jazz Festival to see them perform together again on the same stage.
How a recording this vibrant and important remained in the vaults for over fifty years is a mystery to me. According to the liner notes, the recording of "That Old Black Magic" from the show had been used on a compilation album over 40 years ago, lending credibility that a tape of the whole show might exist somewhere within the vaults of Sony Music. After many years of super sleuthing by Sony archivist Matt Kelly, a tape of the concert labeled "An American Jazz Concert" was found filed among classical recordings from the era, with no reference to whom the performers were.
The show begins with introductions by radio personality William B. Williams, followed by a set performed by The Dave Brubeck Quartet. At the time, the Quartet consisted of Brubeck on piano, Paul Desmond on alto sax, Eugene Wright on bass and Joe Morello on drums. The group launches into a quick tempo version of "Take Five," and follows it with three Brubeck originals, "Nomad," "Thank You" and "Castilian Blues." The group is captured in fine form, particularly Morello whose drum solo on "Castilian Blues" is a highlight.
Next up is a set by Tony Bennett backed by his longtime accompanist Ralph Sharon on piano, with Hal Gaylor on bass and Billy Exiner on drums. Bennett's set includes fan favorites "Just In Time," "Small World," "Make Someone Happy," "Rags To Riches," "One For My Baby (And One More For The Road)" and "I Left My Heart In San Francisco." He still performs most of these songs when he takes the stage today at the tender age of 87.
What next ensues was a truly special, totally unrehearsed set by Bennett backed by The Brubeck Trio (Paul Desmond sat this set out) featuring the two sparring together on "Lullaby Of Broadway," "Chicago (That Toddlin' Town)," "There Will Never Be Another You," and today's Song Of The Day, "That Old Black Magic," featuring a terrific piano solo by Brubeck.
"It was very spontaneous – a real jam session, where you really don't plan what you're going to sing or how you're going to play it," said Bennett, "I just gave Dave the key and the song, and we just went for it."
The sound quality of the recording is in-your-face crystal clear, giving the listener the immediacy of traveling back in time and being there for the actual event. It's is indeed amazing that a recording of this vintage and of such high quality has remained unreleased in the vaults so long. Who knows what other gems may lurk in the deepest and darkest crevices of the record company vaults. Only time will tell…