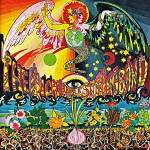 I first came into contact with this wistful song via Judy Collin's version on her Who Knows Where The Time Goes album where it was called "The First Boy I Loved." It makes sense that she would've covered this song as they were both label mates at Elektra Records.
It literally took me years to get into the ISB. My older sister had their 1967 album The Hangman's Beautiful Daughter when I was growing up and I found it to be impenetrable.  Now, I really love their rootsy psychedelic instrumentation, whimsical lyrics, terrific vocals and the songs of Mike Heron and Robin Williamson.
Today's Song Of The Day comes from their 1966 psychedelic masterwork, The 5000 Spirits or the Layers of the Onion.
Incredible String Band Version:

Judy Collins Version: