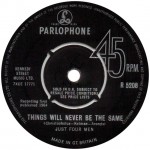 Obscure British Invasion music produced by George Martin!
Last week I wrote about Freddie & The Dreamers single, "I'm Telling You Now," and the American album of the same name. The record was not a Freddie & The Dreamers album per se, although they were the featured group on the cover. It was a compilation released in 1965 to introduce unknown British Invasion groups to American audiences featuring two tracks each by Freddie & The Dreamers, Mike Rabin & The Demons, The Toggery Five, Linda Laine & The Sinners, Heinz and the group whose song is today's Song Of The Day, Four Just Men.
Four Just Men were one of the better groups to ride on the coattails of The Beatles and The British Invasion, and while their output was miniscule to say the least, it was indeed potent.
They were a Merseybeat group whose original name was Dee Fenton & The Silhouettes. Upon changing their name to Four Just Men in 1964, they were signed by George Martin who produce several non-charting British singles for them in 1964 through 1965. The group's two Parlophone singles were "Things Will Never Be The Same" b/w "That's My Baby (which were the two songs on the U.S. compilation album) and "There's Not One Thing" b/w "Don't Come Any Closer."  Both singles were originals, written by singer-guitarist Dimitrius Christopholus and guitarist John Kelman.  They changed their name yet again, this time to Just Four Men after another band also calling themselves Four Just Men threatened to sue EMI.
While the group toured with The Rolling Stones, The Searchers and Del Shannon in support of the two singles, neither charted and they were dropped by EMI, only to resurface in 1966 as a psychedelic group called Wimple Winch, who were known for the local hits "Rumble On Mersey Square South" and "Save My Soul."
The two Four Just Men singles, as well as eight previously unreleased tracks from the era and 16 songs by Wimple Winch were released on the now out of print import CD The Wimple Story 1963-1968.