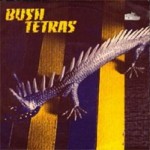 This song used to really set a party in motion back in 1980 when it was released as a single on the New York 99 record label. With its distorted guitar, I-don't-give-a-fuck vocals and sluggish funky rhythms, Bush Tetras established themselves as part of the downtown Manhattan No Wave dance club scene.
Along with Sonic Youth, Suicide, Glenn Branca, Material, Lydia Lunch, Arto Lyndsay, Lounge Lizards, Teenage Jesus & The Jerks and DNA, Bush Tetras were part of a downtown music scene known as "No Wave" that melded heavy distortion, infectious dance and funk beats and plenty of New York City attitude, creating a wholly original form of dance music that offered a hip alternative to disco and had a huge influence on the industrial music scene of the 1980s.
The group consisted of Pat Place on angular funk guitar (originally of James Chance & The Contortions), Cynthia Sley on half-sung/half-spoken vocals, Laura Kennedy on bass and Dee Pop (no relation to Iggy) on drums.
After the relative success (#57) of today's Song Of The Day, the group went on to release another EP on Stiff records that was produced by Topper Headon of the Clash. That record was followed by a live album that was released on the cassette only ROIR label.
The group broke up by 1983. By 1995, the original lineup reunited and recorded two more albums that went unnoticed. In fact, their last album Happy was shelved by Mercury Records before it was even released, only to finally appear on ROIR in 2012.