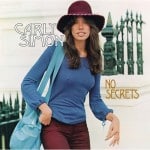 Words cannot describe the captivating effect that the album cover of today's Song Of The Day had on me when I was eleven years old. The image of Carly Simon on the cover of No Secrets launched hundreds of fantasies throughout my teenage hormone-infused head. And it wasn't the layout and design of the cover that got to me, either…
The photograph for the cover was taken by Ed Caraeff in front of the Portobello Hotel, on Stanley Gardens in London's Notting Hill, and to me, it was one of the hottest album covers I'd ever seen. That said, the album turned out to be a pretty good pop album as well, that, at least in the house I grew up in, bridged the generations enabling the whole family to enjoy it at the same time. For 1972, this was indeed no small feat.
Carly Simon was a member of the affluent Simon & Schuster publishing family, and with her sister Lucy got her start as part of The Simon Sisters. The sisters recorded three albums and scored a minor hit in 1964 with their recording of "Winkin', Blinkin', and Nod."
Simon released her first eponymously titled solo album on the Elektra label in February 1971. The album established her as a member of the then-burgeoning singer-songwriting elite, and featured the top-ten single "That's The Way I've Always Heard It Should Be." Eight months later, the follow-up album Anticipation was released featuring the top-twenty title hit that later went on to become a long-running Heinz Ketchup commercial.
By the time Richard Perry had connected with Simon for No Secrets, he was already a well-established hit-making producer who had produced hit albums like Nilsson Schmilsson by Harry Nilsson, Stoney End by Barbra Streisand, Sentimental Journey by Ringo Starr, God Bless Tiny Tim by Tiny Tim, Safe As Milk by Captain Beefheart & His Magic Band, plus albums for Fats Domino, Ella Fitzgerald, Johnny Mathis and Percy Faith.
No Secrets was recorded at Trident Studios, London and featured the cream of the UK session world including Klaus Voorman on Bass, Jim Gordon, Jim Keltner and Andy Newmark on drums, Nicky Hopkins on piano, Ray Cooper on congas, Jimmy Ryan on guitar, Lowell George on slide guitar, Bobby Keys on saxophone and Paul & Linda McCartney, Mick Jagger, James Taylor, Bonnie Bramlett and Doris Troy on vocals. The album sat at the top of the Billboard Album charts for six consecutive weeks in 1972.
For an album called No Secrets, the platter has harbored a deep dark secret for many years, as to who the subject of the #1 hit, "You're So Vain" might be. The song was said to be about Warren Beatty or Mick Jagger, however the only thing certain is that the backing vocals were provided by an uncredited Mick Jagger. On August 5, 2003, Carly Simon finally auctioned off the identity of the subject of the song to Dick Ebersol (NBC television executive at The Today Show) at a charity function for $50,000 with the condition that he would never reveal the answer.
Simon married James Taylor in 1972, and their relationship is the main thematic undercurrent throughout the whole record, especially on songs like "Right Thing To Do" (a #17 hit) and Waited So Long," with its chorus that has Taylor confirming that Simon is no virgin. Elsewhere Simon even covers Taylor's "Night Owl" featuring Paul & Linda McCartney, Bonnie Bramlett and Doris Troy on vocals.  Simon and Taylor remained married for 11 years and had two now adult children.
Other highlights on this durable disk include the poignant song of remorse "The Carter Family," co-written by longtime friend and journalist Jacob Brackman, and today's Song Of The Day "We Have No Secrets" which includes the very telling lyrics: "We have no secrets / We tell each other everything /  About the lovers in our past / And why they didn't last… Sometimes I wish / Often I wish / That I never ever knew / Some of those secrets of yours."
In true A Star Is Born fashion, as Carly Simon's star rose for this album and its follow-up Hotcakes (which contained the hits "Mockingbird" with James Taylor and top five hit "Haven't Got Time For the Pain"), Taylor was at a commercial low ebb releasing his poorly received One Man Dog and Walking Man albums.
Simon's star continued to rise fueled by big radio hits like "Nobody Does It Better" (the Theme from the James Bond movie The Spy Who Loved Me), "Coming Around Again" and "Let The River Run" (the first song to win a Grammy Award, Academy Award and a Golden Globe for a song written by a performing artist). During the 1980s, Simon recorded a series of mostly poorly received formula albums for Clive Davis at Arista Records and still occasionally records and performs today.