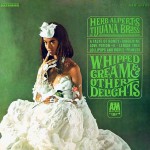 Before forming the Tijuana Brass and a record company (A&M) that still lives today, Herb Alpert was best known for co-writing Sam Cooke's "Wonderful World" and producing tracks for Jan & Dean.  All that changed in 1962 when he recorded "The Lonely Bull" in his garage and gave birth to one of the biggest recording acts of the 1960s rivaling The Beatles.
The first few Tijuana Brass albums were recorded with a cadre of Los Angeles studio musicians. For the group's fourth album, Whipped Cream & Other Delights, Alpert recruited future Tijuana Brass members John Pisano (guitar) and Bob Edmondson (trombone) and augmented them with Wrecking Crew members Hal Blaine, Carol Kaye, Chuck Berghofer, and Russell Bridges (aka Leon Russell). Once the album took off, Alpert solidified the TJB lineup by adding Nick Ceroli (drums), Pat Senatore (bass), Tonni Kalash (trumpet), Lou Pagani (piano), and Julius Wechter who played marimba and vibes only on studio recordings.
The food-themed album featuring such tasty tunes as "Tangerine," "Butterball," "Peanuts" and "Love Potion No. 9," topped the charts and sold over 6 million copies in the United States. It also won five Grammy Awards, three for the single, "A Taste of Honey.' Sol Lake, who contributed numerous original songs to the TJB repertoire, wrote "Green Peppers,' "Bittersweet Samba" and "El Garbanzo" for the album.
Today's Song Of The Day is an Allen Toussaint-penned creation (under the pseudonym Naomi Neville) that was heard regularly on the TV game show, The Dating Game, as bachelorettes were being introduced to the audience.  Three other songs from the album, "Lollipops And Roses," "Lemon Tree" and "Ladyfingers" were also used on the show as musical cues, as well as "Spanish Flea" from the TJB's follow-up album, Going Places!.
And then there's the album cover…the most iconic in all of recorded music…the cover that launched millions of young adolescent boys sex lives!
The model on the cover, Dolores Erickson, was three months pregnant when the photo was taken!  It was parodied by such artists as Pat Cooper (Spaghetti Sauce & Other Delights), Soul Asylum (Clam Dip & Other Delights), Cherry Capri and the Martini Kings (Creamy Cocktails & Other Delights), The Frivolous Five (Sour Cream & Other Delights), plus on Herb Alpert tribute albums by Peter Nero and Dave Lewis.
Thanks to my buddy Kent, I am the proud owner of not one…not two…but 151 copies of this record…can you really ever get enough "Whipped Cream & Other Delights?"