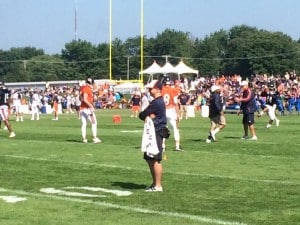 After two days of shorts and helmets, The Chicago Bears put the pads on and went to work on Sunday in front of an estimated 9,500 fans at Olivet Nazarene University in Bourbonnias IL. While you would figure the highlight of the day would have been a big hit, or even a nice block, the biggest ovation from the crowd actually came from a punter.
Bears' rookie punter, Pat O'Donnel, became an instant fan favorite and even received "MEGA–PUNT" chants after every kick. One punt had an unofficial time of 5.1 seconds, while another appeared to go about 55 yards. Nothing too shocking when you consider the Bears used a sixth-round pick on the former Miami punter who averaged 47.1 yards per punt.
"I didn't know what the crowd was saying," O'Donnel said. "Its definitely a good feeling because usually the punter doesn't get a lot of attention."
While the kicking and punting have both looked solid in practice, other areas in the special teams have not been so hot. With the retirement of the always reliable, Bears long snapper, Patrick Mannely, the team has tried out both Chad Rempel and Brandon Harston. Neither have showed enough to win the job after a series of a miscues the first weekend of practice.
"We need to work through the process and find out who our guy is going to be," Bears special teams coordinator, Joe DeCamliss, said after practice. "I wouldn't say we are concerned. I have been in this position before with young guys."
The Bears did have a better showing on offense on Sunday after a few rough moments on Saturday. Brandon Marshall and Alshon Jeffrey both continue to impress as usual, while Martellus Bennet is still a huge target who is having a solid camp. Also, quarterback Jay Cutler has been working with the second team of receivers and backs. Eric Weems, Chris Williams, and Marquess Wilson have all made plays and will look to compete for time on the field throughout camp and preseason. Matt Forte has looked good and will look to stay healthy throughout camp. Backup running back Michael Ford has seen a good amount of work with the second team, while rookie back KaDeem Carey has seen limited reps. I would guess he would see most of his action-carries in the preseason where he should get a hefty work-load.
Here are some other notes from Sundays first day of full pads for the Bears
– Alshon Jeffrey and Kyle Fuller battled in 1-on-1 receiver and Defensive back drills again today. Fuller looks very NFL-ready and only allowed one catch to Jeffrey, while batting down a few balls, to a huge ovation from the crowd. #23 is the real deal.
– Tim Jennings returned to practice on Sunday after sitting out on Saturday due to sore quadriceps, but would pull himself after his first 1-on-1 drill to be safe.
-Defensive end Willie Young participated in practice. Safeties Chris Conte (shoulder), and Craig Steltz (groin), are still out. However, Conte may be back sooner than expected. Receiver Terrence Toliver was also held out due to a toe injury.
– Defensive lineman Nate Collins, who is coming off a torn ACL last season, looked very impressive during 1-on-1 drills.
– Jordan Palmer looked better Sunday than he did the first two days. Jimmy Clausen appears to be the early favorite and more suitable backup to Cutler.
–