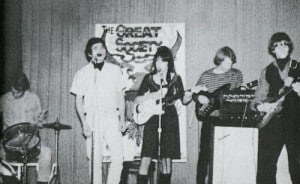 1965, San Francisco band The Great Society, featuring Grace Slick, make their live debut at The Coffee Gallery, North Beach, California. The lineup featured Grace, her then-husband Jerry Slick on drums, his brother Darby Slick on guitar, David Miner on vocals and guitar, Bard DuPont on bass, and Peter van Gelder on flute, bass, and saxophone.
1967, The Doors appeared on the Murray the K show on WPIX-TV in New York City performing "People Are Strange" and "Light My Fire."
1968  Madame Tussaud's Wax Museum gives its Beatles statues their fifth hair and clothes makeover in four years, in keeping with the lads' taste for hippie fashions.
1968, The Amboy Dukes played at the Grande Ballroom in Detroit, Michigan.
1969, A new weekly TV show,  The Music Scene aired on ABC for the first time. Stevie Wonder Crosby Stills Nash & Young, Tom Jones, Cass Elliot, James Brown, Janis Joplin, and Sly and the Family Stone were all booked to appear on the show.
1969, The Band released their self-titled album, which peaked at number nine on the US chart, and included "Rag Mama Rag," "Up on Cripple Creek," and "The Night They Drove Old Dixie Down." In 2009, the album was preserved into the National Recording Registry because the album was "culturally, historically, or aesthetically important, and reflects life in the United States."
1970, The Rolling Stones performed at the Palais des Sport in Paris.
1971, David Crosby and Graham Nash appear at Veterans Memorial Auditorium in Columbus, Ohio.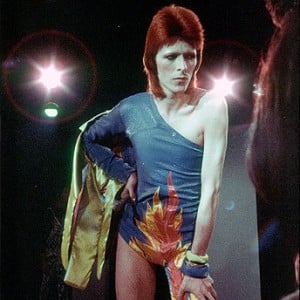 1972, David Bowie kicked of the North American leg of his Ziggy Stardust world tour at the Music Hall in Cleveland, Ohio.
1973, The Rolling Stones scored their eighth No.1 album when "Goats Head Soup" started a two-week run at the top of the charts.
1974, The Sonny Bono Comedy Revue was shown for the first time on ABC-TV.
1976, Rush perform at The Dome Arena, Rochester, New York.
1977, Yes appear at the Oakland-Alameda County Coliseum, Oakland, California.
1978, Jethro Tull released the live album Bursting Out. It was recorded at various locations during the European Heavy Horses tour in May and June 1978
1978, Black Sabbath plays at Selland Arena, Fresno, California.
1979, Gary Numan had his second and final UK number one single with "Cars." Also on this day Gary Numan went to number one on the UK album chart with The Pleasure Principle.
1979, Jackson Browne, Chaka Khan, Bruce Springsteen, Bonnie Raitt and Tom Petty, appeared at Madison Square Garden, New York for two anti-nuclear benefit shows.
1979, Def Leppard had their first major live review when UK music weekly Melody Maker reviewed a gig the band had played in Wolverhampton.  The band had just released their debut 3-track single, and featured a 15 year-old drummer
1981, Composer Harry Warren died aged 88. He wrote over 800 songs including "I Only Have Eyes For You," a hit for The Flamingos and Art Garfunkel, "You Must Have Been a Beautiful Baby," "Jeepers Creepers," "That's Amore," and "Chattanooga Choo Choo." Warren's songs were featured in over 300 films.
1983, During a UK comeback tour The Everly Brothers appeared at the Royal Albert Hall in London. In the audience, Paul and Linda McCartney, Ringo Starr, Eric Clapton, and Mickey Dolenz.
1984, Echo And The Bunnymen, Spear Of Destiny, The Sisters Of Mercy, The Redskins, and The Chameleons all appeared at the first York Rock Festival, York, England.
1985, The first Farm Aid benefit concert was held before a crowd of 80,000 people at the Memorial Stadium in Champaign, Illinois. Organized by Willie Nelson, John Mellencamp and Neil Young, the event had been spurred on by Bob Dylan's comments at Live Aid earlier in that year that he hoped some of the money would help American farmers. The star studded line-up of country stars included Alabama, Hoyt Axton, Glen Campbell, Johnny Cash, Charlie Daniels Band, John Denver, Bob Dylan, John Fogerty, Vince Gill, Merle Haggard, Emmylou Harris, Waylon Jennings, George Jones, Kris Kristofferson, Loretta Lynn, Roger Miller, Nitty Gritty Dirt Band, Willie Nelson, Charley Pride, Bonnie Raitt, Kenny Rogers.
1987, The Grateful Dead play at the Spectrum in Philadelphia, Pennsylvania.
1990, Nirvana played their biggest gig to date when they appeared at the Motor Sports International Garage in Seattle. Drummer Dave Grohl who would audition for the band in a few days time, was in the audience of 15,000 people.
1990, Garth Brooks album No Fences entered the US album chart. It went on to become the biggest selling country album of all time and sold over 13 million copies in the first five years of release.
1991, The Grateful Dead appeared at the Boston Garden in Boston.
2001, A Tribute to Heroes was aired commercial-free on most of the major US TV networks. The live program was organized to raise money following the terrorist attacks on the Pentagon and New York's World Trade Center. Neil Young, Tom Petty, Paul Simon, Billy Joel, U2, Limp Bizkit, Bruce Springsteen and Pearl Jam all performed. Manning the telephones to take pledges were celebrities including Jack Nicholson, Jim Carrey, Whoopi Goldberg, Goldie Hawn, Robin Williams, Meg Ryan, Cuba Gooding Jr., Kurt Russell, Adam Sandler and many more.
2004, Cat Stevens, who now goes by the name of Yusuf Islam, was escorted from a diverted transatlantic flight and refused entry into America by FBI agents. His name showed up on a US watch list after his United Airlines  had taken off from London. The flight landed in Maine where Islam, who was traveling with his 21-year-old daughter, was detained and questioned.
Born on September 22: David Coverdale, vocals, Whitesnake (1949); Richard Fairbrass, singer, Right Said Fred (1953); Debby Boone (1956); Nick Cave (1957); and Joan Jett (1960); Will Farquarson, guitar, Bastille (1983)