Woody Guthrie said Take it easy, but take it…   So TAKE is our focus this week on The Award Winning 3D RadioActivity.  We gave away music two weeks ago, so this time we will Take music to task.    We're going to take to the highway, we'll take you in our arms, take a load off, and we will take it to the limit when we take the long way home.  You can take a deep breath, take all the credit, take a seat, a letter, notes, a bath, a picture or a bribe.  When recording on tape, you will always find a take up reel.  Kick back as we take over because this show is ready to take off with full thrust.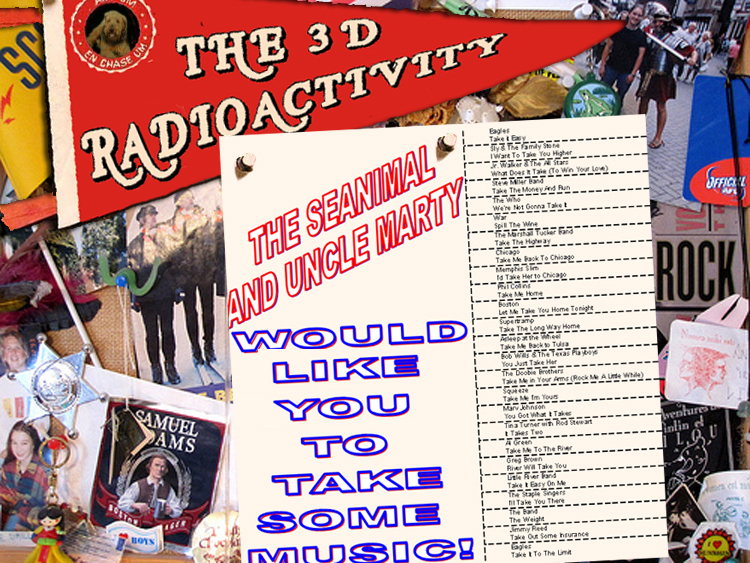 We are taking a musical journey by taking the opportunity to find the word take in our playlist this week, sort of like a ten song theme with a common idea, only we do it for two hours, with the backstory on every track we spin, that's the way we roll, with 25 Songs and over 101 minutes of music!  I really like the music we found for you this week, and I think you will dig it too.
[jwplayer mediaid="6714″]
Thanks so much for tuning in to our take on music, and please dial in again in the next couple of  weeks as we keep it all in the family with songs about Brothers and Sisters on The Award Winning 3D RadioActivity.
Got a suggestion on what to play on this or any of my shows?  You can send me a message on Facebook page, or by clicking on my name below to send an email.
"It's not true I had nothing on, I had the radio on."
— Marilyn Monroe