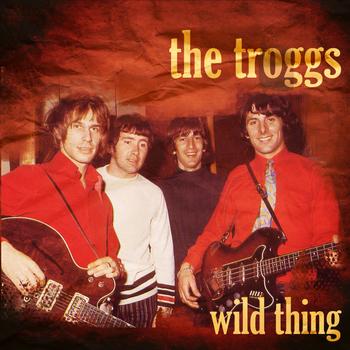 1966, The Troggs recorded "Wild Thing" at Regent Sound Studio in London. The song went on to be a chart topping US and number two UK hit in June the following year.
1966, The Who and The Yardbirds appear together in a live French edition of Ready, Steady GO! called, appropriately, Ready, Steady, Allez! According to producer Vicki Wickham, both groups run out of the studio and into the alley at the end of the show. The cameras chase them only to catch the bands urinating against a wall. The same night The Who perform at La Locomotive Club in Paris, compèred by Ronnie Bird who will soon release "Ne t'en fais pas pour Ronnie," a French-language re-write of "A Legal Matter." The show is broadcast on Radio Luxembourg.
1966, Pye Records released David Bowie's first solo single, "Do Anything You Say." Bowie had previously recorded as David Jones and The Lower Third.
1966, John Lennon bought a copy of Timothy Leary's The Psychedelic Experience and The Tibetan Book Of The Dead, where he read near the beginning of the book's introduction; "When in doubt, relax, turn off your mind, float downstream," which captured Lennon's imagination and became the first line of "Tomorrow Never Knows," which he recorded 5 days later.

1967, The Kinks appeared in concert at Kelvin Hall, Glasgow, Scotland.
1967, Janis Joplin performed at the Avalon Ballroom in San Francisco.
1967, Pink Floyd played at the Birdcage Club in Portsmouth, Hampshire, England.
1968, Dick Clark appears at a San Francisco concert headlined by the Siegel Schwall Band. He is shilling his new movie, Psych-Out, which features Jack Nicholson rocking at the Fillmore West.
1969, The Beach Boys announced they were suing their record label Capitol for $2 million in unpaid royalties.
1970, The Moody Blues appeared at the Terrace Ballroom in Salt Lake City, Utah.

1970, 50 musicians recorded the orchestral scores for The Beatles tracks "The Long And Winding Road" and "Across The Universe" for the Phil Spector produced sessions. The bill for the 50 musicians was £1,126 and 5 shillings, ($1914).
1970, Earls Court in London received over one million postal ticket applications for The Rolling Stones forthcoming six concerts as part of the group's European tour.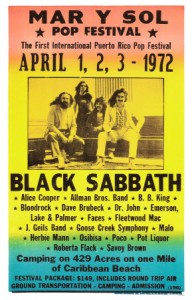 1971, John Entwistle releases his and The Who's first commercial solo record "I Believe In Everything" backed with "My Size." To promote it he hires a stagecoach with livery to deliver the single to Harlequin Records in London. The stagecoach ends up getting a parking ticket.

1971, Led Zeppelin perform a concert for the BBC Radio program Rock Hour at London's Paris Theater. Featuring a bevy of material from their forthcoming fourth album, the concert becomes one of their most-bootlegged performances.

1972, The three-day Mar Y Sol festival in Puerto Rico took place, featuring Rod Stewart, Dr John, The Allman Brothers, Osibisa, Emerson Lake and Palmer, Alice Cooper, The Mahavishnu Orchestra. Security was simple as the event took place on an island accessible by ticket only.
1973, Roxy Music performed at the Rainbow Theatre, London.
1973, The Allman Brothers Band performed at Hara Arena in Dayton, Ohio.
1974, KISS played at The Agora, Cleveland, Ohio.
1975, Genesis appeared at Friedrich Ebert Halle, Ludwigshafen, Germany.
1976, The Who return to Boston Garden to make up for the show of March 9th they didn't finish because of Keith Moon's collapse. Keith runs around the stage to show he's in fine shape and Roger Daltrey adds "thanks for waiting for the encore!" John Entwistle, however, has a rougher time. After numerous requests by Roger to "turn down," John throws his bass onto the stage and tells Roger he can play it. This show is later bootlegged as Behind Blind Eyes.
1976, AC/DC made their live debut in the UK, playing at The Red Cow in Hammersmith, London.
1976, Pink Floyd guitarist David Gilmour's house was broken into with thieves taking guitars valued at over £7,000.
1976, Rush perform at the Civic Centre Arena, Ottawa, Canada.
1976, The Buzzcocks played their debut live gig when the appeared at Bolton Institute Of Technology. The power was turned off after three numbers.
1977, Elvis Presley is admitted to Memphis' Baptist Memorial Hospital. He is found to be suffering from fatigue and intestinal flu.
1978, Elvis Costello and The Attractions appeared at The Bracknell Sports Centre, Berkshire, England.
1980, ZZ Top played at Memorial Auditorium, Buffalo, New York.
1984, Marvin Gaye was shot dead by his father at his parent's home in Los Angeles, California. The argument started after his parents squabbled over misplaced business documents, Gaye attempted to intervene, and was killed by his father using a gun he had given him four months before. Marvin Sr. was sentenced to six years of probation after pleading guilty to manslaughter. Charges of first-degree murder were dropped after doctors discovered Marvin Sr. had a brain tumor.
1985, David Lee Roth quit Van Halen shortly after releasing his version of The Beach Boys' "California Girls," (which featured Carl Wilson on background vocals). He was replaced by Sammy Hagar later in the year.
1999, Rock 'n' roll pioneer and Rhythm & Blues Hall of Famer Jesse Stone dies in Altamonte Springs, Fla. He is 97. Stone, one of the founders of Atlantic Records, helped define the rock sound through his work as writer and arranger of such seminal hits as Big Joe Turner's "Shake, Rattle & Roll."
2004, Paul Atkinson guitarist with The Zombies died aged 58 due to liver and kidney disease. They scored the 1964 US number two and UK number 12 single "She's Not There." He later became an artist and repertoire executive, working for Columbia and RCA discovering and signing such bands as ABBA, Bruce Hornsby, Mr. Mister, Judas Priest, and Michael Penn.
2013, A signed copy of The Beatles' album Sgt. Pepper's Lonely Hearts Club Band sold at Dallas-based Heritage Auctions for $290,500 (£191,000). The selling price far exceeded the $30,000 (£19,700) originally estimated for the rare LP record. The UK Parlophone copy of the album included a high gloss cover and vinyl gatefold sleeve.
Born on April 1: Rudolph Isley, The Isley Brothers (1939); Phil Margo, The Tokens (1942); John Barbata, The Turtles, Jefferson Starship (1945); Ronnie Lane, The Small Faces (1946); Jimmy Cliff (1948); Simon Cowe, guitar, Lindisfarne (1948); Jeff Porcaro, Toto (1954); Stan Ridgeway, Wall of Voodoo (1955); Leslie Langston, bass, Throwing Muses (1964)