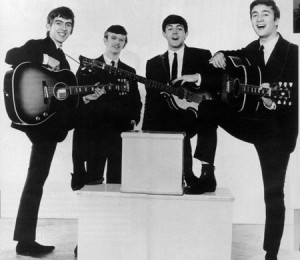 1963, The Beatles perform on BBC TV for the first time on The 625 Show.
1964, The Rolling Stones first album was released in the UK, it went to number one two weeks later and stayed on the chart for 40 weeks, with 11 weeks at the top of the charts.
1964, The Beatles filmed the "chase scenes" for A Hard Days Night with actors dressed as policemen in the Notting Hill Gate area of London. In the evening they recorded the title track for the film, 'A Hard Day's Night' at Abbey Road. John and Paul had the title first, and had to write a song to order, completing the track in nine takes.
1967, Cream appeared at the 'Daily Express Record Star Show' at The Empire Pool, Wembley, England.
1969, Desmond Dekker and the Aces were at No.1 on the singles chart with 'The Israelites', making Dekker the first Jamaican artist to have a No.1 single.

1969, Elektra Records dropped Detroit's MC5 from their label after the band took out an advertisement in a local paper that included the company logo and said; "Fuck Hudsons." The band were protesting at the Michigan department store's refusal to stock their albums.
1970, The Led Zeppelin single Whole Lotta Love was certified Gold in the US after selling over a million copies. The single had peaked at No. 4 on the US singles chart. In the UK Atlantic Records had expected to issue the edited version themselves, and pressed initial copies for release on 5th December 1969. However, band manager Peter Grant was adamant that the band maintain a 'no-singles' approach to marketing their recorded music in the UK, and he halted the release.
1972, The Electric Light Orchestra made their debut at The Fox and Greyhound in Croydon, London.
1972, Pink Floyd appeared at the Township Auditorium, Columbia, South Carolina, USA. A typical set list on this the Dark Side of The Moon tour was: The Dark Side of the Moon (entire album), One of These Days, Careful with that Axe Eugene, Echoes, Set The Controls For The Heart Of The Sun.
1973, During his Ziggy Stardust World tour, David Bowie appeared at the Kobe, Kobe Kokusai Kaikan, Japan.

1974, Queen play their first American concert at Denver's Regis College.
1976, Aerosmith played at the Kiel Auditorium in St. Louis, the first date on their 76 date North American Rocks Tour.
Born on this day – Henry Mancini (1924); Bobby Vinton (1935); Dusty Springfield (1939); Gerry Rafferty (1947); and Dave Pirner, Soul Asylum (1963)