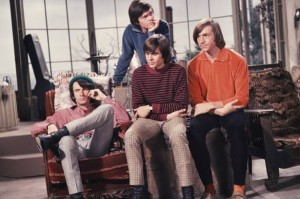 1967, Monkees fans walked from London's Marble Arch to the US Embassy in Grosvenor Square to protest Davy Jones' planned call-up to the army. Jones was exempted because he was deemed responsible for supporting his father.
1968, The first date of a twice-nightly UK tour featuring, Amen Corner, Gene Pitney, Status Quo, Simon Dupree & The Big Sound, and Don Partridge kicked off at The Odeon Theatre, Lewisham, London.
1968, Vanilla Fudge played at Tad Gormley Stadium in New Orleans, Louisiana.
1969, Led Zeppelin appeared at the Roundhouse in Dagenham in East London.
1970, The Allman Brothers Band performed at Ludlow Garage, Cincinnati, Ohio.
1971, Rolling Stones Leave England and become tax-exiles. In an interview with Mick Jagger and Roy Carter of the NME shortly before the release of Exile on Main Street, Mick said, "So after working for eight years I discovered at the end that nobody had ever paid my taxes and I owed a fortune. So then you have to leave the country. So I said fuck it, and left the country."
1971, Keith Moon performs again as part of an All-Star Jam Session at the Bumpers Club in London.
1971, The Grateful Dead performed at the Manhattan Center in New York City.
1972, Elvis Presley kicked of a 15-date US tour at the Memorial Auditorium in Buffalo, New York.
1973, Yes appeared at The Forum, Inglewood, California.
1974, Genesis performed at the Embassy Theatre, Fort Wayne, Indiana.

1975, Minnie Riperton went to number one on the singles chart with the Stevie Wonder produced song "Loving You." It was the singer's only chart hit. Riperton died of cancer in July 1979.
1975, Lynyrd Skynyrd played at the Mid-South Coliseum, Memphis, Tennessee.
1977, David Bowie plays keyboards and sings backing vocals on Iggy Pop's US tour. This night's stop is at the Paramount Theater in Seattle, Washington.
1977, Black Sabbath appeared at the Pavillion de Paris, Paris.
1978, Duran Duran made their live debut at The Lecture Theatre, Birmingham Polytechnic.
1979, Roxy Music played at the Masonic Auditorium, Detroit, Michigan.
1980, The Grateful Dead were the musical guests on Saturday Night Live. They performed "Alabama Getaway" and "Saint of Circumstance."
1980, Genesis scored their first number one album when Duke went to the top of the charts.
1980, R.E.M. played their first ever gig when they appeared at St Mary's Episcopal Church, Athens, Georgia.

1981, Canned Heat singer Bob "The Bear" Hite died of a heart attack aged 36. He played at both the 1967 Monterrey Pop Festival and the 1969 Woodstock Festival.
1983, Danny Rapp, leader of 50's group Danny and the Juniors committed suicide in a hotel in Arizona by shooting himself.
1984, Marvin Gaye's funeral took place at The Forest Lawn Cemetery, Los Angeles. Smokey Robinson, Stevie Wonder, Quincy Jones, Berry Gordy, and other Motown singers, writers and producers, attended the service.
1985, At 3:50pm GMT, over 5,000 radio stations worldwide aired the charity single by USA for Africa 'We Are The World'. The single went on to be a number one hit in the US and the UK, and most Western territories.
1994, Kurt Cobain committed suicide by shooting himself in the head at his home in Seattle. Cobain's body wasn't discovered until April 8, by an electrician who had arrived to install a security system, who initially believed that Cobain was asleep, until he saw the shotgun pointing at his chin. A suicide note was found that said, "I haven't felt the excitement of listening to as well as creating music, along with really writing . . . for too many years now." A high concentration of heroin and traces of Valium were found in Cobain's body. His death was officially ruled as suicide by a self-inflicted shotgun wound to the head.
1997, The Chemical Brothers went to number one on the UK singles chart with "Block Rockin Beats." The song was taken from their second album Dig Your Own Hole, and won a Grammy award for Best Rock Instrumental Performance.
1998, British drummer Cozy Powell (Colin Flooks) was killed when his car smashed into crash barriers on the M4 motorway near Bristol, England. Powell had worked with the Jeff Beck Group, Whitesnake, Black Sabbath, Rainbow, Brian May, Peter Green, and the ELP spin-off Emerson, Lake, and Powell.
2003, Paul McCartney kicked off the UK leg of his Back In The World Tour at Hallam FM Arena in Sheffield, England, a year after it began in America. The set included 22 Beatles songs.
2006, Gene Pitney was found dead aged 65 in his bed in a Cardiff hotel. The American singer was on a UK tour and had shown no signs of illness. Pitney helped the Rolling Stones break the American market with his endorsement of the band. Jagger and Richards wrote his hit "That Girl Belongs to Yesterday," which became the Stones duo's first composition to reach the American charts. He scored the 1962 US No.4 single "Only Love Can Break A Heart." and 1967 solo UK No.5 & 1989 UK No.1 single with Marc Almond "Something's Gotten Hold Of My Heart," plus over 15 other US & UK Top 40 hits.
2007, Former KISS guitarist Mark St. John died from an apparent brain hemorrhage at the age of 51. St. John was KISS' third official guitarist, having replaced Vinnie Vincent in 1984. He appeared on the album Animalize.
2011, A statue in tribute to Nirvana singer Kurt Cobain was unveiled in his hometown of Aberdeen, Washington, The unveiling marked the 17th anniversary of Cobain's death. The statue designed by local artists Kim and Lora Malakoff was of his signature Fender Jag-Stang guitar. The concrete guitar was eight and a half feet tall and also featured a ribbon with lyrics written on it from Nirvana's "On a Plain." It reads: "One more special message to go and then I'm done and I can go home."
Born on April 5: Tony Williams, The Platters (1928); Peter Grant, manager, Led Zeppelin (1935); Ronny White, The Miracles (1939); Dave Swarbick, Fairport Convention (1941); Alan Clarke, The Hollies (1942); – Les Binks, Irish drummer and songwriter, Judas Priest, Lionheart, Tytan (1948); Dave Holland, Judas Priest (1948); Agnetha Fältskog, Swedish singer-songwriter, producer ABBA (1950); Stan Ridgway, American singer-songwriter, guitarist, Wall of Voodoo, Drywall (1952); Mike McCready, Pearl Jam (1966); Paula Cole, American singer-songwriter, pianist (1968); Pharrell Williams (1973)