1965, The Byrds were forced to cancel a concert during their UK tour at The Guildhall, Portsmouth when only 250 of the 4,000 tickets had been sold.
1966, During a North American tour The Beatles played two shows at Maple Leaf Gardens, Toronto, Canada. The attendance for each show was 18,000.
1967, The Who's manager Kit Lambert was at Columbia Recording Studio in Hollywood, California mixing the mono masters for "Mary Anne With The Shaky Hand" (U.S. single version,) "Summertime Blues," "Someone's Coming," and "Relax.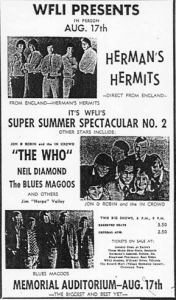 1967, Herman's Hermits, Neil Diamond, and The Who performed at Memorial Auditorium in Chatanooga, Tennessee.
1968, Wheels of Fire by Cream enters its second week at number one on the US album charts.
1968, The Who perform at Phoenix Municipal Stadium in Phoenix, Arizona.
1968, The Rascals (formally the Young Rascals), started a five week run at number one on the singles chart with "People Got To Be Free." The group had thirteen top 40 hits.
1969, The final day of the three day Woodstock festival took place at Max Yasgur's farm in Bethel, New York. Acts who appeared included Crosby, Stills, Nash and Young, The Who, Jimi Hendrix, Ten Years After, John Sebastian, Sha Na Na, Joe Cocker, Country Joe and the Fish, The Band, Ten Years After, Johnny Winter and Paul Butterfield Blues Band. Over 186,000 tickets had been sold but on the first day the flimsy fences and ticket barriers had come down. Organizers announced the concert would be a free event, prompting thousands more to head for the concert. There were two deaths, a teenager was killed by a tractor as he lay in his sleeping bag and another died from a drug overdose.
1969, During a North American tour Led Zeppelin appeared at Oakland Musical Theatre in Wallingford, Connecticut.
1970, Led Zeppelin performed at the Hampton Roads Coliseum, Hampton, Virginia. The concert was rescheduled from August 10th.

1971, The Allman Brothers Band played at the Boston Commons in Boston, Massachusetts. Duane played "Soul Serenade" on slide guitar in tribute to King Curtis, who died four days earlier. J. Geils played on "Stormy Monday." Wet Willie opened.
1972, Deep Purple performs the last of three shows at the Nippon Budokan arena in Tokyo. These recordings were used in the Made in Japan live album.
1973, Former Temptations singer Paul Williams was found dead in his car, after shooting himself. He owed $80,000 in taxes and his celebrity boutique business had failed.
1973, KISS appeared at The Daisy, Amityville, New York.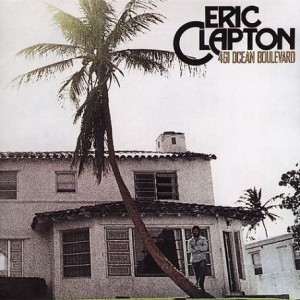 1974, Eric Clapton started a four-week run at number one on the album chart with 461 Ocean Boulevard
1974, UK group Paper Lace scored their only US number one single with "The Night Chicago Died." It climbed to the third spot in the UK.
1974, Aerosmith played at the Civic Center, Charleston, West Virginia.
1975, Blue Oyster Cult appeared at the Capital Centre, Landover, Maryland.
1976, Yes performed at Cobo Arena, Detroit, Michigan.
1977, Rush headlined at RKO Orpheum Theatre, Davenport, Iowa.
1979, The New York Post reported that Anita Pallenberg, the wife of Keith Richards, was linked to a witches coven in South Salem, New York where Richards owned a house. A policeman claimed he was attacked by a flock of black-hooded, caped people and a local youth claimed he had been invited by Pallenburg to take part in "pot smoking sex orgies." Locals also claimed they found "ritualistic stakes" and small animals that had been sacrificed near the house.
1980, The Grateful Dead appeared at Municipal Auditorium Arena in Kansas City, Missouri.
1982, ZZ Top played at Maple Leaf Gardens, Toronto, Ontario.
1983, David Bowie performed at Veterans Memorial Coliseum, Phoenix, Arizona.
1984, Bruce Springsteen appeared at Brendan Byrne Arena, East Rutherford, New Jersey.
1987, Session drummer Gary Chester died of cancer. He had been a member of The Coasters and played on many major hits for other acts including "Brown Eyed Girl," "Under The Boardwalk," "Walk On By," "It's My Party."
1991, Nirvana shot the video for "Smells Like Teen Spirit" at GMT Studios in Culver City, California, costing less than $50,000 (£31,250) to make, the shoot features real Nirvana fans as the audience. The video won Nirvana the Best New Artist and Best Alternative Group awards at the 1992 MTV Video Music Awards.
1999, Led Zeppelin topped a chart of Britain's most bootlegged musicians, compiled by the British Phonographic Industry (BPI), after identifying 384 bootleg titles featuring Led Zeppelin performances. The bootleg chart was complied from the BPI's archive of some 10,000 recordings seized over the past 25 years. The Beatles, came in second with 320 entries, other acts listed included The Rolling Stones, Bob Dylan and Pink Floyd.
2002, Nelly featuring Kelly Rowland held the number one position on the US singles chart with "Dilemma." The UK number one album was By The Way by The Red Hot Chili Peppers and the US chart topping album was The Rising by Bruce Springsteen.
2008, Jackson Browne was suing US Republican presidential candidate John McCain for using one of his songs without permission. Browne claimed the use of his song "Running on Empty" in an ad was an infringement of copyright and would lead people to conclude he endorses McCain. Browne was seeking more than $75,000 (£40,000) in damages.
2012, Three members of the Russian feminist punk rock protest group Pussy Riot were sentenced to two years imprisonment after they had staged a performance on the soleas of Moscow's Cathedral of Christ the Savior in a protest directed at the Orthodox Church leader's support for President Putin during his election campaign.
Born on August 17: John Seiter, Spanky And Our Gang (1944); Gary Talley guitar, The Box Tops (1947); Sib Hashian, drums, Boston (1949); Kevin Rowland, singer, Dexy's Midnight Runners (1953); Colin Moulding, XTC (1955); Belinda Carlisle (1958); and Steve Gorman, drums, The Black Crowes (1965)