1964, The High Numbers, (The Who) played at The Scene in Soho London, England.
1964, The Beatles kicked off a North American tour at the Cow Palace in San Francisco, California, to a crowd of 17,130. Playing 12 songs which made up their repertoire for the entire tour: Twist and Shout, You Can't Do That, All My Loving, She Loves You, Things We Said Today, Roll Over Beethoven, Can't Buy Me Love, If I Fell, I Want to Hold Your Hand, Boys, A Hard Day's Night, and Long Tall Sally. Supporting acts were The Righteous Brothers, The Bill Black Combo, The Exciters, and Jackie DeShannon.
1966, During a US tour The Beatles appeared at the Sam Houston Coliseum, playing two shows to over 25,000 fans. Tickets cost $5.00.
1967, The Beatles scored their fourteenth number one single with "All You Need Is Love." Mick Jagger, Keith Richards, Eric Clapton, Keith Moon, Graham Nash, Marianne Faithfull and Walker Brother Gary Leeds all sang backing vocals on the track.
1968, Pink Floyd release "Let There Be More Light"/ "Remember A Day" in the US.

1968, After 58 episodes, the final Monkees TV show airs on NBC. Since the its initial run, almost every major cable network has aired re-runs of the show, including a popular stint on CBS from 1969-1972.
1969, Joni Mitchell, David Crosby, Stephen Stills and Jefferson Airplane all appeared on the ABC TV Dick Cavett Show from Television Center in New York City.
1970, The Allman Brothers Band played at American Legion Memorial Stadium in Charlotte, North Carolina.
1971, Led Zeppelin kicked off a North American tour at the Pacific Coliseum in Vancouver, Canada. The band played to a sold out crowd of over 17,000 fans, another 3,000 fans outside the venue who didn't have tickets started a battle with local police.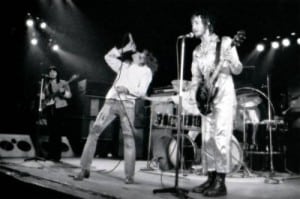 1971, The Who played at the Auditorium Theatre in Chicago, Illinois.
1972, Chicago started a nine-week run at No.1 on the album chart with Chicago V.
1972, David Bowie played the first of two nights at the Rainbow Theatre in England on his current 182-date Ziggy Stardust world tour.
1973, Rita Coolidge and Kris Kristofferson were married in Malibu, California. Kristofferson had just enjoyed a number 1 country hit with "Why Me," which included Coolidge on backing vocals. The couple divorced near the end of 1979.
1974, AC/DC appear at Festival Hall, Melbourne, Australia.
1976, Yes perform at Cobo Arena, Detroit, Michigan.
1977, The Sex Pistols started an undercover UK tour as The Spots, (an acronym for Sex Pistols on tour secretly).
1978, Bruce Springsteen plays at The Spectrum, Philadelphia, Pennsylvania. Actor Gary Busey joins the band for the Buddy Holly song "Rave On."
1979, American Rockabilly singer Dorsey Burnette died from a heart attack at his home in Canoga Park, California. He wrote 'It's Late', a hit for Ricky Nelson and Shakin' Stevens. After his death, singer and friend Delaney Bramlett organized a benefit concert for Dorsey's widow at the Forum in Inglewood, California, in which Kris Kristofferson, Hoyt Axton. Tanya Tucker, Glen Campbell, Duane Eddy, Delaney and Bonnie, Gary Busey and Roger Miller appeared. Dorsey Burnette's pioneering contribution to the genre has been recognized by the Rockabilly Hall of Fame.
1980, The Grateful Dead perform at Chicago's Uptown Theater.
1981, ZZ Top played at the Kansas Coliseum, Wichita, Kansas.
1982, During a North American tour, Queen appeared at the Mississippi Coast Coliseum, Biloxi, Mississippi.
1983, Black Sabbath appeared at Isstadion, Stockholm, Sweden.
1996, James Brown appeared in Montauk, New York, as part of his Back at the Ranch tour. Brown who had a history of beating his wife, offered money that was raised at the event to an anti-violence organization called The Retreat, but was turned down.
2001, American soul singer Betty Everett died aged 61. She had the 1964 US No.6 single "The Shoop Shoop Song (It's In His Kiss,") later covered by Cher.
2005, A life-size bronze statue designed by Paul Daly of Phil Lynott was unveiled on Harry Street in Dublin. The ceremony was attended by his former Thin Lizzy band members Gary Moore, Brian Robertson and Scott Gorham. Lynott died in 1986.
Born on this day: Ginger Baker, Cream, Ginger Baker's Airforce; and Johnny Nash, singer (1940); Ian Gillan, Deep Purple (1945); and John Deacon, Queen (1951)
Today in rock history main page