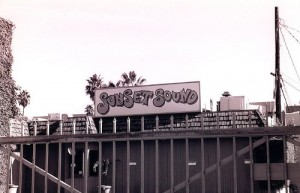 1966, The Doors started recording their self-titled first album at Sunset Sound Recording Studios, West Sunset Boulevard, Los Angeles, California. The Sunset Sound Recorders complex was created by Walt Disney's Director of Recording, Tutti Camarata, from a collection of old commercial and residential buildings, some built more than 80 years ago. At the encouragement of Disney himself, Camarata began the project in 1958, starting with a former automotive repair garage whose sloping floor would tend to reduce unwanted sonic standing wave reflections
1967, 17-year old singer and guitarist Bruce Springsteen joined a group called Earth.
1967, The Doors performed at Public Auditorium in Cleveland, Ohio.
1968, The Incredible String Band, Traffic, Bonzo Dog Band, Family, Fairport Convention, Blossom Toes, Pretty things, Deviants, Blonde On Blonde and Free all appeared over two nights at The Roundhouse in London.
1968, Pink Floyd played the last date of a North American tour at The Bank, in Torrence, California.
1968, James Brown performed at Mid-South Coliseum in Memphis, Tennessee.

1969, During a North American tour Led Zeppelin appeared at the Veterans Memorial Coliseum in Jacksonville, Florida.
1969, Yes played at Club Paradiso in Amsterdam.
1970, The Who are at the Civic Hall in Woverhampton, England. They are joined onstage by John Sebastian, of The Lovin' Spoonful, who is a houseguest of the Townshends at the time.
1971, Led Zeppelin appeared at Memorial Auditorium, Dallas, Texas.
1972, The Who appeared at the Scandinavium in Gothenburg, Sweden.
1973, The Allman Brothers Band played Three Rivers Stadium, Pittsburgh, Pennsylvania.
1974, Traffic made their last live performance at the annual UK Reading Festival. Other acts appearing that day included Georgie Fame and the Blue Flames, Greenslade, the Heavy Metal Kids, G.T. Moore, Thin Lizzy, and Procol Harum.
1974, Paul Anka with Odia Coates started a three week run at number one on the US singles chart with "You're Having My Baby," Anka's 24th US top 40 hit. It made it to number six in the UK.
1975, Queen started recording "Bohemian Rhapsody" at Rockfield studio's in Monmouth, Wales. The song was recorded over three weeks. Freddie Mercury had mentally prepared the song beforehand and directed the band throughout the sessions. May, Mercury, and Taylor sang their vocal parts continually for ten to twelve hours a day, resulting in 180 separate overdubs.
1976, AC/DC appeared at the Marquee Club, London.
1977, Singer, songwriter Waylon Jennings was arrested and charged with possession of cocaine. Jennings had recently been named an honorary police chief.
1979, Celebrating 30 years in show business, B.B. King played at the Roxy Club, Sunset Strip, Los Angeles.
1979, Rush played at Ivor Wynne Stadium, Hamilton, Ontario, Canada.
1980, Iron Maiden Whitesnake, Def Leppard, UFO, Gillan, Pat Travers Band and Rory Gallagher all appeared at the 20th National Rock Festival Reading Rock 80, England.
1981, Mark Chapman was given a 20 year jail sentence for the murder of John Lennon. The 25 year old had shot Lennon five times at close range on December 8th, 1980 in front of The Dakota apartment building in New York City. Over the next few months, Chapman would claim many times to have been beaten by fellow inmates, some of whom allegedly tried to kill him.
1982, King Crimson and Roxy Music appeared at the Velodromo, San Sebastián, Spain.
1983, David Bowie performed at the Scope, in Norfolk, Virginia.
1985, The Grateful Dead played at Boreal Ski Resort at Donner's Summit, California.
1989, The Who performed Tommy at the Universal Amphitheatre, Los Angeles with special guests Steve Winwood, Elton John, Phil Collins, Patti LaBelle and Billy Idol.
1990, The three day UK Reading Festival kicked off, featuring, Faith No More, The Cramps, Inspiral Carpets, Pixies, The Fall, Jesus Jones, Ride, Dinosaur Junior, The Wedding Present, Billy Bragg and others. A three day ticket cost £35 ($56).
1998, Producer Gene Page died after a long illness. He worked with Barbra Streisand, Barry White, The Righteous Brothers, Dobie Gray, Bob and Earl. He produced Whitney Houston's "'Greatest Love of All," and Roberta Flack's "Tonight I Celebrate My Love."
2001, Travis, Eminem, Eels, Green Day, Marilyn Manson, Supergrass, PJ Harvey, Manic Street Preachers, Weezer, Iggy Pop, Queens Of The Stone Age, The Cult, Frank Black, The Strokes, Supergrass, Ash, Stephen Malkmus and Mercury Rev all appeared at the Carling Weekend Reading / Leeds festival. A three day ticket cost £80 ($128).
2009, The Los Angeles County Coroner ruled Michael Jackson's death a homicide caused by a mix of drugs meant to treat insomnia. On February 8, 2010, Dr. Conrad Murray was charged with involuntary manslaughter by prosecutors in Los Angeles. Dr. Murray pleaded not guilty and was released after posting $75,000 bail, but would be found guilty in November, 2011 and was sentenced to four years in a Los Angeles County jail.
Born on August 24: David Freiberg, bass, Quicksilver Messenger Service, Jefferson Airplane,  Jefferson Starship (1938); Ernest Wright, Little Anthony and the Imperials (1941); John Cipollina,  Quicksilver Messenger Service (1943); Jim Capaldi (1944); Ken Hensley, Uriah Heep (1945); Molly Duncan, sax, Average White Band (1945); Jean-Michel Jarre, instrumentalist (1948); John Cowan, bass,New Grass Revival, The Sky Kings, The Doobie Brothers (1951); Oteil Burbridge, bass, The Allman Brothers Band, Tedeschi Trucks Band, Col. Bruce Hampton and The Aquarium Rescue Unit (1964)