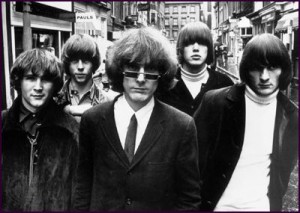 1965, The Byrds appeared at the Hollywood Palladium, Hollywood, California.
1965, Sonny & Cher were at number one on the UK singles chart with "I Got You Babe," the duo's only British chart topper. Sonny Bono was inspired to write the song to capitalize on the popularity of the term "babe," as heard in Bob Dylan's "It Ain't Me Babe."
1967, Mick Jagger and Marianne Faithfull joined up with The Beatles in Bangor North Wales to seek guidance from Maharishi Mahesh Yogi.
1967, Small Faces, Move, The Gass, Tomorrow, Denny Laine, Jeff Beck, Eric Burdon and Marmalade all appeared on the first day of the 3-day non-stop happening 'Festival of the Flower Children' at Woburn Abbey, England.
1967, The Beatles held a press conference at University College in Bangor, North Wales with Maharishi Mahesh Yogi. The Beatles announced that they had become disciples of the guru and that they renounced the use of drugs. The four had become members of the Maharishi's 'Spiritual Regeneration Movement', which obligated them to donate one week's earnings each month to the organization.

1969, Crosby, Stills, Nash and Young play the Greek Theatre, Los Angeles.
1970, Joan Baez, Joni Mitchell, Jimi Hendrix, (his last ever UK appearance), Donovan, Jethro Tull, Miles Davis, Arrival, Cactus, Family, Taste, Mungo Jerry, ELP, The Doors, The Who, Spirit, The Moody Blues, Chicago, Procol Harum, Sly and the Family Stone and Free all appeared over three days at the third Isle Of Wight Festival.
1970, The Allman Brothers Band perform at the Miami Beach Convention Center in Miami, Florida.
1971, The Grateful Dead appear at Gaelic Park in the Bronx, New York.
1973, Genesis headlines the closing day of the Reading Jazz, Blues, and Rock Festival. Tickets cost £2.20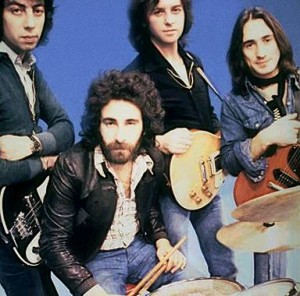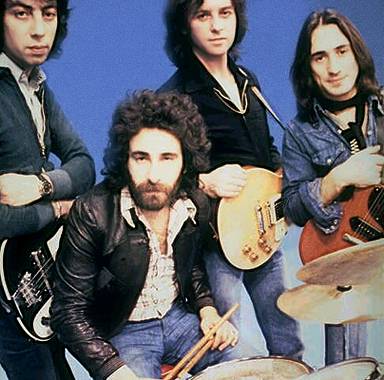 1973, 10cc made their live debut at the Palace Lido Isle of Man at the start of an UK tour. Comprising of Graham Gouldman, Eric Stewart, Kevin Godley and Lol Creme, who had written and recorded together for some three years before assuming the 10cc name.
1974, Rush plays at The Agora in Cleveland, Ohio.
1976, AC/DC appear at the Marquee Club, London.
1977, Uriah Heep, Thin Lizzy, The Sensational Alex Harvey Band, Eddie and the Hot Rods, Golden Earing, Aerosmith, Doobie Brothers, Hawkwind, Racing Cars, John Miles, Graham Parker, The Enid, No Dice and Frankie Miller's Full House all appeared at the 17th three day Reading Festival, England.
1978, Frankie Valli went to No.1 on the singles chart with the Barry Gibb song 'Grease'. It went on to sell over 2 million in the US.
1978, Fleetwood Mac, The Cars, Todd Rundgren, Bob Welsh and Eddie Money all appeared at Cleveland Stadium, Cleveland, Ohio.
1988, The first day at this years three day Reading Festival featuring Iggy Pop, Starship, Squeeze, Ramones, Meat Loaf, Bonnie Tyler, Hothouse Flowers, Deacon Blue, Quireboys, Broken English, three day ticket £24, an increase of nearly £20 from the 1973 festival.
Born on August 26: Nik Turner, Hawkwind (1940); Valerie Simpson, Ashford and Simpson (1948); Bill and Dick Cowsill (1950); Shirley Manson, vocals, Garbage (1966); and Jeff Tweedy, Wilco (1967)