1964, The Who played the first of 22 consecutive Tuesday night gigs at The Marquee Club in London, the band were paid £50 ($80) for each gig.
1965, during a North America tour The Rolling Stones appeared at the Vancouver Auditorium, Vancouver, British Columbia.
1966, Tom Jones was atop on the singles chart with his version of "Green Green Grass Of Home." It stayed at number one for seven weeks giving Decca records its first million selling single by a British artist.
1966, Jimi Hendrix signs a management deal with Yameta, a firm started by Who managers Kit Lambert and Chris Stamp.
1967, During a 16-date UK package tour with Jimi Hendrix, Pink Floyd, The Move, Nice, Outer Limits, and Amen Corner, the shows took place at the Central Hall, Chatham. The Chatham Standard later reported, "Hendrix opened his act with the Beatles' number "Sergeant Pepper's Lonely Hearts Club Band," and the three-piece group made as much of an impression as a studio full of musicians. Once upon a time this sort of noise could not be reproduced outside a studio. He did several of his own numbers, including unfaultable versions of "Hey Joe" and "Purple Haze," and The Troggs' "Wild Thing."
1967, The Who end their first headlining tour of the US, playing the Long Island Arena in Commack, New York. Vanilla Fudge is the supporting act.
1968, The Beatles White Album started a seven-week run at number one on the UK chart. The double set was the first on the Apple label,
1968, Janis Joplin played her last concert with Big Brother and the Holding Company, a Family Dog show in San Francisco.
1969, George Harrison and Ringo Starr turn up at London's Royal Albert Hall to watch Delaney & Bonnie perform with Eric Clapton.
1971, Yes appeared at the Palace Theater, Waterbury, Connecticut.
1972, Pink Floyd performs at the Centre Sportif, in Ile Des Vannes, St. Ouen, Paris. The show was broadcast live by RTL Radio.
1973, The Carpenters went to number one on the singles chart with "Top Of The World," their second US chart topper.
1974, Genesis performed at the Lyric Theater, Baltimore, Maryland.
1975, The Allman Brothers Band played at the Civic Center in Springfield, Massachusetts.
1976, The Sex Pistols appeared on ITV's live early evening Today show, in place of Queen, who had pulled out following a trip to the dentist by Freddie Mercury. Taunted by interviewer Bill Grundy, who asked the band to say something outrageous, guitarist Steve Jones says, "You dirty bastard…you dirty fucker…what a fucking rotter!"
1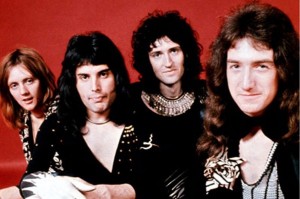 977, during a North American tour Queen appeared at Madison Square Garden in New York City.
1977, Rush played at the Montreal Forum, Montreal, Quebec.
1978, Punk rocker Ian Dury releases his single "Hit Me With Your Rhythm Stick" in the UK. He fails to chart in the US, but the epochal single sells two million copies worldwide.
1979, The Grateful Dead performed at Stanley Hall in Pittsburgh, Pennsylvania.
1980, Talking Heads, supported by U2, appeared at the Hammersmith Palais, London, England.
1981, King Crimson appeared at The Commodore Ballroom, Vancouver, British Columbia.
1982, Aerosmith played at Hara Arena, Dayton, Ohio.
1983, Neil Young was sued by Geffen Records because his new music for the label was "not commercial in nature and musically uncharacteristic of his previous albums." His latest album Everybody's Rockin' featured a selection of rockabilly songs, both covers and original material, which ran for just 25 minutes, Young's shortest album.
1990, Vanilla Ice started a four-week run at number one in the UK with the single "Ice Ice Baby." The track sampled the bass intro to the Queen and David Bowie chart topping "Under Pressure."  "Ice Ice Baby" was initially released as the B-side to the rapper's cover of "Play That Funky Music," and became the A-side after US DJ's started playing it.
1997, Kenny G set a new world record when he held a note on his saxophone for 45 minutes and 47 seconds. The record was later broken by Geovanny Escalante, who held a note for 1 hour, 30 minutes and 45 seconds, using a technique that allows him to blow and breathe at the same time.
2006, An Oasis fan enjoyed "the best day of his life" when Noel Gallagher popped round to his house in Poynton, Cheshire to play an intimate gig. Lucky listener Ben Hayes won a BBC Radio 1 competition to have the star play in his front room as part of a week of gigs compered by DJ Jo Whiley. 15 people packed into his lounge for the tiny gig, with his mother on hand making cups of tea for the crew.
Born on December 1: Billy Paul (1934); Lou Rawls (1936); John Densmore, The Doors (1944); Bette Midler (1944); Eric Bloom, Blue Oyster Cult (1944); Gilbert O' Sullivan (1946); Jaco Pastorius, Weather Report (1951); Isaiah "Ikey" Owens, keyboardist, The Mars Volta, Jack White (1974); Brad Delson, guitar, Linkin Park (1977)