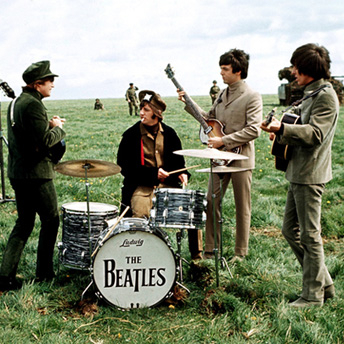 1965, Working at Abbey Road studios in London, The Beatles recorded the rhythm track "You're Going To Lose That Girl" in two takes. On his new song, John Lennon sang, and accompanied himself on acoustic guitar, backed by Paul and George. The band lip-synced to the recording for the movie Help! The final album mix was made four days later.
1965, The Who learn by letter that J.E. Grant has given them the go-ahead to appear on the BBC Light Programme after they pass their audition of the 12th with four votes out of seven. The same day is more good news as "I Can't Explain" makes its first appearance on a British chart, popping up at #45 in Record Mirror.
1966, Lou Christie went to number one on the US singles chart with "Lightnin' Strikes."
1966, The Who performed at Memorial Hall in Norwich, England.
1966, Bob Dylan appeared at Ottawa Auditorium in Ottawa, Ontario, Canada.
1967, Jimi Hendrix performed at Brady's Club in London.
1967, Janis Joplin and Jefferson Airplane performed at the Fillmore in San Francisco.
1969, Yes appeared at the Marquee Club, London.

1970, Neil Young played an acoustic show at KQED-TV Studios, San Francisco. Back in the day, KQED was responsible for spotting the best new music via their live sessions. The song selection was from the Everybody Knows This Is Nowhere era. The setlist reportedly was: Everybody Knows This Is Nowhere, Everybody's Alone, Dance Dance Dance, On The Way Home, Wonderin #1, Wonderin #2, Instrumental Noodling (including – Out On The Weekend I – Don't Want To Talk About It – Helpless – Country Girl – Do I Have To Come Right Out And Say It,) Sugar Mountain.
1971, REO Speedwagon and Mountain played Robertson Memorial Fieldhouse at Bradley University, in Peoria, Illinois.
1972, Harry Nilsson started a four week run at number one on the US singles chart with his version of the Badfinger song "Without You." It won a Grammy in 1973 for Best Male Pop Vocal.
1972, Led Zeppelin appeared at the Memorial Drive, Adelaide in Australia. A local paper who reviewed the show printed: Singer Robin Plant (sic) overcame an "Australian bug" in his throat and broke into his own in "Black Dog" and "Stairway To The Stars" (sic.)
1973, The Grateful Dead performed at the International Amphitheatre in Chicago, Illinois.
1974, At the first American Music Awards, Al Green's Livin' for You wins the Favorite Album, Soul/R&B award. The hosts were Roger Miller, Helen Reddy, and Smokey Robinson.
1974, KISS make their television debut on Don Kirshner's Rock Concert.
1974, Black Sabbath appeared at the Capital Centre, Landover, Maryland.
1976, Former lead singer with Tower Of Power, Rich Stevens was arrested in connection with the drug related murders of three men in San Jose, California. Stevens was found guilty of the charges in November 1976.
1976, Cat Stevens performed at Cobo Arena, Detroit, Michigan.
1977, Leo Sayer had his only number one single with the Albert Hammond and Carole Bayer Sager song "When I Need You."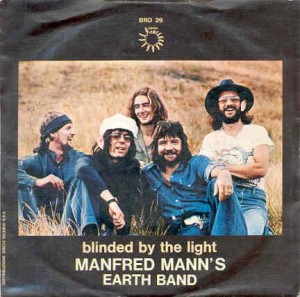 1977, Manfred Mann's Earth Band scored a number one single in the with their version of the Bruce Springsteen song "Blinded By The Light." The track was the first single from Bruce Springsteen's 1973 debut album Greetings from Asbury Park N.J. The Earth Band's version features several changed lyrics. The most prominent change is in the chorus, where Springsteen's "cut loose like a deuce" is replaced with "revved up like a deuce." Springsteen himself has said that it was not until Manfred Mann rewrote the song to be about a "feminine hygiene product" that it became popular.
1977, ZZ Top played at Chicago Stadium in Chicago.
1979, Frank Zappa performed at the Hammersmith Odeon, London.
1982, Ozzy Osbourne was arrested in San Antonio, Texas for urinating on the Alamo. Osbourne was wearing a dress at the time of his arrest, (due to his wife Sharon hiding all his clothes so he couldn't go outside). Osbourne who apparently thought he was relieving himself on a pile of rubble was banned from ever playing in San Antonio, Texas again, (a ban which was lifted in 1992).
1982, Alice Cooper appeared at The Apollo, Glasgow, Scotland.
1992, During their Use Your Illusion Tour, Guns n' Roses played the first of three nights at the Tokyo Dome in Tokyo, Japan. The 55,000-seat baseball stadium (The Big Egg) is the largest concert hall in Japan.
1994, Mariah Carey had her first UK number one with her version of the Peter Ham – Tom Evans song "Without You." This was 22 years after Harry Nilsson made it a US chart topper. Carey's version was released on January 24, 1994, just over a week after Nilsson had died following a heart attack. the tragic connection with this song is that both Ham and Evans committed suicide, Ham in 1975, and Evans in 1983, after an ongoing battle to receive royalties from the song.
1995, Motley Crue drummer Tommy Lee married Baywatch actress Pamela Anderson on a Cancun beach, Mexico, the bride wore a white bikini. Anderson and Lee who married only four days after meeting, had videotaped their sexual activities while on vacation. The tape was later stolen and released on the Internet. After suing the video company who released the tape, the Lees entered into a confidential settlement agreement. The couple divorced in 1998.
1996, Winners at this year's Brit Awards included Paul Weller who won British Male Solo Artist, British Female Solo Artist went to Annie Lennox, Oasis won British Group, Best Album for (What's The Story) Morning Glory and Best British Video for "Wonderwall." British Breakthrough Act went to Supergrass, International Group was Bon Jovi, International Breakthrough Act went to Alanis Morissette and David Bowie was awarded Outstanding Contribution to music. Pulp singer Jarvis Cocker was arrested after a stage invasion during Michael Jackson's appearance, (who won Artist of a Generation). Cocker was accused of attacking children who were performing with Jackson. All charges against Cocker were later dropped.
2014, David Bowie was named best British male at the Brit Awards in London, although he was not there in person to collect his award. Arctic Monkeys won both best group and best album for the third time – the first act to achieve that milestone. Ellie Goulding won best British female, while pop act One Direction were honored for their global success for the second year running. Bowie's prize came at the expense of four much younger hopefuls – Jake Bugg, Tom Odell, John Newman and Mercury Prize winner James Blake.
Born on this day: Smokey Robinson (1940); Lou Christie (1943); Paul Dean, Canadian guitarist, Loverboy, Streetheart (1946); Tony Iommi, Black Sabbath (1948); Mark Andes, Spirit (1948); Andy Powell, Wishbone Ash (1950); Francis Buchholz, bass, Scorpions, Michael Schenker Group (1954); Peter Holsapple, American singer-songwriter, a guitars, The dB's (1956); Dave Wakeling, The English Beat (1957); Hans Holzl, aka Falco (1957); Henry Samuel, aka Seal, singer (1963); Jon Fishman, American drummer, Phish (1965); Daniel Adair, drums, 3 Doors Down (1975);