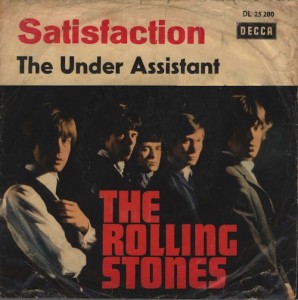 1965, The Rolling Stones started a four week run at number one on the US singles chart with "(I Can't Get No) Satisfaction," the group's first chart-topper there. In the UK, the song was initially played only on pirate radio stations because its lyrics were considered too sexually suggestive.
1966, Johnny Tilotson, The Jive Five, The Tymes, The Shangra-Las and local band The Castiles (with Bruce Springsteen on vocals) all appeared at the Surf 'n See Club in Seabright New Jersey.
1968, Eric Clapton announced that Cream would be splitting up following a farewell tour later in the year.
1968, The Nice were banned from appearing at London's Royal Albert Hall after burning an American flag on stage. Two years later, Keith Emerson, leader of the Nice, joined Greg Lake and Carl Palmer in Emerson, Lake and Palmer.
1968, Diana Ross & the Supremes and Stevie Wonder appeared at San Diego Sports Arena, San Diego, California.
1969, Bob Dylan, Iron Butterfly, and Blues Image all appeared at the Mississippi River Festival at Southern Illinois University in Edwardsville, Illinois.
1969, The funeral of Rolling Stone Brian Jones took place in his home town at Hatherley Road Parish Church, Cheltenham. Canon Hugh Evan Hopkins read Jones' own epitaph, "Please don't judge me too harshly." Bill Wyman, Keith Richards and Charlie Watts from The Stones attended the funeral.

1970, The Allman Brothers Band played at Stony Brook University in Stony Brook, New York.
1970, The Who single "Summertime Blues" backed with "Heaven and Hell" is released. The A-side comes from the album Live at Leeds while the B-side is a quickly recorded mono studio version of the Entwistle song done for the BBC, with a new vocal slapped on. It reaches number 38 in Britain and in the US, it makes number 27 in the Billboard charts.
1971, The Who performed during their "unpublicized" tour of the UK at Civic Hall, Dunstable, England.
1972, Harry Nilsson released Son of Schmilsson. His eighth album featured friends Ringo Starr and George Harrison, plus Klaus Voorman, Nicky Hopkins, Peter Frampton, Chris Spedding, Bobby Keys and Lowell George. It included the hit "Spaceman, " and the satirical classics "You're Breaking My Heart" and "Joy."
1972, Pink Floyd release "Free Four"/"Stay" as a 7″ single in the US.
1973, Led Zeppelin performed for two hours and forty minutes to 11,000 fans at the Milwaukee Arena in Milwaukee, Wisconsin.
1974, David Bowie played the first of five dates at The Tower Theatre in Philadelphia the recordings of which made up the David Live album released later that year.
1975, The Rolling Stones played at The Forum in Inglewood, California.
1976, One hit wonders Starland Vocal Band started a two week run at No.1 on the US singles chart with "Afternoon Delight."
1976, Aerosmith performed at Comiskey Park in Chicago, home of the White Sox baseball team. The stadium was demolished in 1991, when a new stadium was opened next door. The Beatles performed at Comiskey in 1965.
1977, Cher gave birth to a baby boy Elijah Blue. Gregg Allman was the father.
1978, Rolling Stone Bill Wyman was knocked unconscious after falling from the stage during a Stones concert at the Coliseum in St Paul, Minnesota.
1979, Chuck Berry was sentenced to five months in jail after being found guilty of tax evasion.
1980, Bob Marley and the Wailers began what would be Marley's last ever UK tour when they appeared in Dublin, Ireland.
1980, During their 23 date 11 O'Clock Tick Tock tour, U2 appeared at The Clarendon Hotel in London.
1981, The Moody Blues performed at Pine Knob Music Theatre, Clarkston, Michigan.
1981, The Grateful Dead played at the Civic Center in St. Paul, Minnesota.
1984, King Crimson appeared at Le Spectrum in Montreal, Quebec.
1987, Producer and record company executive John Hammond died. He brought Stevie Ray Vaughan, Bob Dylan, Aretha Franklin, Leonard Cohen and Bruce Springsteen to Columbia Records. Hammond also worked as a producer with Bessie Smith, Billie Holiday, Benny Goodman and Count Basie.
2002, David Bowie, Suede, Divine Comedy, Green Day, No Doubt, Paul Weller, Ian Brown, Joe Strummer, New Order, Doves and Shed 7 all appeared at the four day Move festival, Old Trafford Cricket Ground, Manchester, England.
2008, The drum skin used on the cover of The Beatles' Sgt Pepper album sold for £541,250 at Christie's Memorabilia auction in London. Other items sold included John Lennon's lyrics for "Give Peace a Chance" which sold for £421,250. A pair of tinted prescription sunglasses belonging to Lennon, which he wore for the cover of the single "Mind Games," sold for £39,650. A rare 1/4 inch reel to-reel master tape recording of the Jimi Hendrix Experience performing at the Woburn Music Festival in 1968 went for £48,050, a Marshall amplifier used by Hendrix in concert fetched £25,000..
Born on July 10: Jerry Miller, Moby Grape (1943); Arlo Guthrie (1947); Ronnie James Dio (1949); and Greg Kihn (1950)