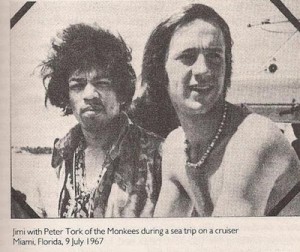 1962, Bob Dylan recorded "Blowin' In the Wind" at Columbia Recording Studios in New York City during an afternoon session. Dylan originally wrote and performed a two-verse version of the song, as in its first public performance, at Gerde's Folk City on April 16th, 1962.
1965, Otis Redding began recording sessions at Stax Studios in Memphis, Tennessee for what would become his third studio album Otis Blue. The album consists of cover versions of other R&B and soul artists hits, and, except for one track, it was recorded in a twenty-four-hour period.
1967, On a tour supporting The Monkees, The Jimi Hendrix Experience appear at the Convention Hall, Miami, Florida. After it becomes plainly apparent that the group is not suited to teenybopper audiences, the tour's promoter Dick Clark and Hendrix's manager Chas Chandler concoct a story saying that the conservative Daughters of the American Revolution group had complained at Jimi's act and so the Experience left the tour after just six shows.
1969, Working at Abbey Road studios in London The Beatles recorded "Maxwell's Silver Hammer." John Lennon returned to the studio after recovering from a car crash in Scotland, and a bed was installed in the Abbey Road studio for Yoko, who was pregnant, and who had been more seriously injured in the car accident.

1971, Jim Morrison is quietly buried in Paris' Pere-Lachaise cemetery, making it a necessary stop on any rock fan's European itinerary.
1972, Paul McCartney and Wings played their very first show in the small French town of Chateauvillon. The band included Denny Laine, Denny Seiwell, Henry McCullough, and Paul's wife, Linda. It was McCartney's first time on the road since the Beatles quit touring in 1966.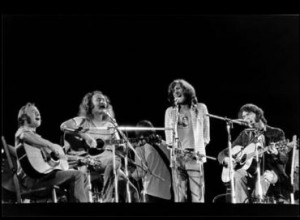 1974, Crosby Stills Nash & Young kicked off a reunion tour in Seattle in front of 15,000 fans.
1976, The Pretty Things, Supercharge, and third on the bill, The Sex Pistols, all appeared at The Lyceum, London, England, tickets £1.75 ($2.63.)
1977, Alan O'Day went to number one on the US singles chart with "Undercover Angel," his only solo hit.
1977, Elvis Costello quit his day job at Elizabeth Arden Cosmetics to become a full time musician.
1978, The Rolling Stones drop in on Chicago's Quiet Knight club to jam with hero Muddy Waters.
1979, The Pretenders kicked off a 23-date UK tour at Smatyz, Chester. The band's single "Kid" was released that week.
1983, The Police started an eight week run at number one on the US singles chart with "Every Breath You Take" It was also a chart topper in the UK. Taken from the band's album Synchronicity, Sting won Song of the Year and The Police won Best Pop Performance for the song at the 1984 Grammy Awards.
1983, Wham! went to number one on the UK album chart with their debut release Fantastic!, which went on to spend 116 weeks on the chart.
1988, Cheap Trick went to number one on the US singles chart with "The Flame," the group's only US chart topper.
1995, The Grateful Dead give their last concert with leader Jerry Garcia at Chicago's Soldier Field. Jerry would die of a heart attack a month later while in drug rehab. The last song played at the concert – "Box of Rain."
2006, Muse started a two week run at number one on the UK album chart with Black Holes & Revelations, the band's fifth album release and second chart topper.
2006, Lily Allen scored her first UK number one single with "Smile." The organ riff is a sample of Jackie Mittoo playing keyboards on "Free Soul" by The Soul Brothers. Lily's actor dad, Keith Allen, was part of the Fat Les band who had a hit with "Vindaloo" in 1998.
2011, Former Led Zeppelin frontman Robert Plant joined three local musicians at a fundraising charity show in Monmouth Wales, where tickets cost £3 ($4.50.) The event was a tribute to his friend, former Led Zeppelin producer Pat Moran, who died of a rare dementia in January. Plant delighted the small crowd in the Monmouthshire town with songs from his Led Zeppelin days, as well as tunes from his solo career.
Born on July 9: Bon Scott, AC/DC (1946); Mitch Mitchell, Jimi Hendrix Experience (1947); Jim Kerr, Simple Minds (1959); Courtney Love (1965); Jack White (1975)