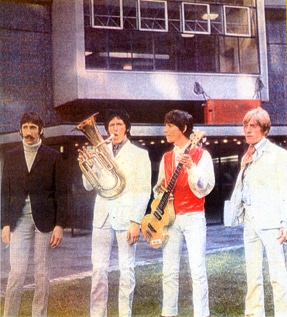 1966, The Who record preliminary versions of two new Pete Townshend compositions "Disguises," and a song from Pete's first rock opera Quads, "I'm A Boy." "Disguises" is rush mixed to be used the next day on the last episode of BBC-TV's A Whole Scene Going. Pete wears a handlebar mustache and John plays a tuba named "Gladys."
1967, The Doors appeared at Steve Paul's Scene, New York City. Jimi Hendrix was in the audience.
1968, Pink Floyd played at the Midsummer Ball, University College London, Bloomsbury, England.
1969, Mick Taylor's first photo shoot with the Rolling Stones takes place in London's Hyde Park. He replaced Brian Jones.
1970, Derek and the Dominoes played their first gig when they appeared at London's Lyceum.
1970, Blood, Sweat & Tears become the first Western rock band to tour behind the Iron Curtain.

1972, Led Zeppelin played the first of two nights at Nassau Coliseum, Uniondale, New York.
1972, Cops resort to the use of tear gas in Tucson, Arizona, after a Rolling Stones concert gets out of hand.
1973, David Bowie appeared at City Hall, Salisbury, England.
1974 Number one chart toppers pop hit, "Billy, Don't Be a Hero," by Bo Donaldson & the Heywoods.
1974, Ray Stevens was at number one on the UK singles chart with "The Streak" a song about the latest craze of streaking, running naked in a public place.
1974, The Allman Brothers Band played at Royals Stadium, Kansas City, Missouri.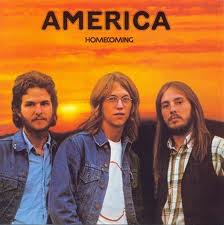 1975, America went to number one on the US singles chart with "Sister Golden Hair," the group's second chart topper.
1976, The Grateful Dead played the first of two nights at the Beacon Theatre in New York City.
1977, Eric Clapton appeared at Le Pavillon, Paris.
1977, Led Zeppelin played the last of six sold out nights at Madison Square Garden, in New York City during their 11th and final North American tour.
1978, The Rolling Stones performed at the Capitol Theater, Passaic, New Jersey.
1979, Little Feat announce that they are breaking up. Lowell George has a fatal heart attack two weeks later.
1980, Billy Joel started a six-week run at No.1 on the album chart with Glass Houses, his second No.1 album.
1980, Peter Gabriel scored his first number one album with his third solo release. It was self titled like his first two, Peter Gabriel.
1981, Bob Dylan performed at Merriweather Post Pavilion, Columbia, Maryland.
1983, ZZ Top played at Red Rocks Amphitheatre, Morrison, Colorado.
1984, Yes appeared at Isstadion, Malmo, Sweden.
1986, Patti Labelle and Michael McDonald started a three week run at number one on the US singles chart with "On My Own." The pair recorded their vocal parts separately and had never met until after the song went to number one.
1987, 30 hired hands moved 800 rented NHS beds onto Saunton Sands in North Devon for Storm Thorgerson to shoot what would be the cover of the forthcoming Pink Floyd album, A Momentary Lapse Of Reason. Rain interrupted the shoot and the team were forced to repeat the exercise two weeks later.
1989, Pete De Freitas, drummer with Echo And The Bunnymen, was killed at the age of 27, when his motorbike collided with a car.
1994, Composer Henry Mancini died aged 70. He wrote the music to "Moon River," which was originally sung in the movie Breakfast at Tiffany's by Audrey Hepburn, was also the theme song for the Andy Williams television show. Had the 1969 US No.1 single "Love Theme from Romeo And Juliet." Recorded over 90 albums, contributed music to over 100 movies, including "Theme From The Pink Panther."
1995, Irish guitarist Rory Gallagher died after a chest infection set in following a liver transplant. Had been a member of Taste before going solo, sold over 30m albums worldwide. Voted Melody Maker's Top Musician of the Year in 1972, auditioned for The Rolling Stones following the departure of Mick Taylor. Gallagher made his final performance on 10 January 1995 in the Netherlands.
2002, Mick Jagger became a Sir when he was knighted in the Queen's Birthday Honours.
Born on June 14: Rod Argent, The Zombies, Argent (1945); Alan White, Plastic Ono Band, Yes (1949); Boy George (1961)