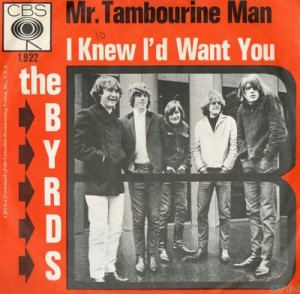 1965, The Byrds went to number one on the US singles chart with their version of Bob Dylan's "Mr Tambourine Man." Only Roger McGuinn from the band played on the song, Wrecking Crew drummer Hal Blaine played on the track.
1965, The Strangeloves, three Australian aborigines who were really three New Yorkers, enter Billboard's Hot 100 with "I Want Candy."
1966, In the midst of a German tour, the Beatles make a long-awaited return to Hamburg, the city where they got their start performing in local clubs. This time they come back in an eight-car motorcade and play to 7,000 people at Ernst Mercky Halle.
1966, During a North American tour, The Rolling Stones played two shows, a matinee show at The Coliseum in Washington DC, and an evening show at The Baltimore Civic Centre in Maryland. The McCoys and The Standells were the support acts.

1969, Joni Mitchell appeared on the ABC TV Mama Cass Television Program from Los Angeles, California.
1970, The Allman Brothers Band appeared at North Georgia Fairgrounds in Marietta, Ohio.
1970, Mountain played at The Warehouse in New Orleans, Louisiana.
1971, Emerson Lake and Palmer went to number one on the UK chart with their second album Tarkus.
1971, Pink Floyd play at Hatfield Polytechnic, in Hatfield, England. Tickets were 60 pence (about 90 cents.)
1972, During sessions at Olympic Studios, London, England, David Bowie recorded "John, I'm Only Dancing," with Mick Ronson on lead guitar and Lou Reed on rhythm guitar. The track which was released and became a hit single in the UK in September of this year was not released in America, being judged too risqué by RCA Records. The original video directed by Mick Rock, featuring androgynous dancers from Lindsay Kemp's mime troupe, was banned by British music show Top Of The Pops.
1973, Rolling Stone Keith Richards and his girlfriend Anita Pallenberg were arrested at their home in Chelsea, London on drugs and gun charges.
1974, Cher divorced Sonny Bono after 10 years of marriage. Four days later, Cher married guitarist Gregg Allman, the couple split 10 days after that, got back together and split again. They did stay married for three years, producing Elijah Blue Allman.
1975, Bob Dylan officially releases the long-bootlegged Basement Tapes.
1976, The Grateful Dead played the first of four nights at the Auditorium Theater in Chicago, Illinois.
1976, Legendary '70s group Roxy Music announce they will undergo a "trial separation."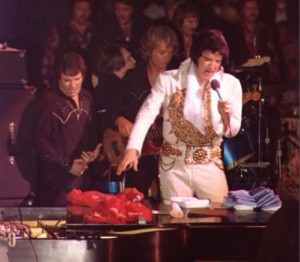 1977, Elvis Presley made his last ever live stage appearance when he appeared at the Market Square Arena in Indianapolis. Presley would die less than two months later. The last two songs he performed were "Hurt" and "Bridge Over Troubled Water." Before the show Elvis was presented with a plaque commemorating the 2 billionth record to come out of RCA s pressing plant.
1982, American singer and One Hit Wonder Charlene was at number one on the UK singles chart with "I've Never Been To Me." The song was recorded in 1976 and was reissued by Motown records in 1982 by which time Charlene had moved to England and was working in a sweet shop in Ilford, east London.
1999, Elton John was reported to be in talks with a City finance house to secure a £25 million ($42.5 million) loan, using his back catalogue of hits as security. It had been reported that Elton had been spending £250,000 ($425,000) a week on credit cards.
2008, Total Guitar magazine voted Celine Dion's rendition of the AC/DC track "You Shook Me All Night Long" as the world's worst cover version ever. In the best cover versions list, Jimi Hendrix was voted into first place with his version of the Bob Dylan song "All Along the Watchtower," The Beatles rendition of "Twist and Shout," (first recorded by the Top Notes), was in second place, followed by the Guns N' Roses version of the Wings song "Live and Let Die."
Born on Jun 26: Col. Tom Parker, Elvis' manager (1910); Billy Davis, Jr., The Fifth Dimension (1940); Larry Taylor, Canned Heat (1942) Mick Jones, The Clash (1955); Chris Isaak (1956) ; Colin Greenwood, Radiohead (1969)