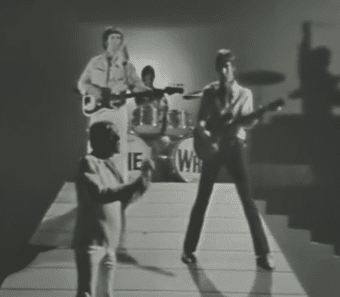 1966, The Who arrive at a TV studio in Stockholm to appear on the Popside program for Sverige Television. Coming onstage busting through a Union Jack paper hoop, they mime performances of "Daddy Rolling Stone," "It's Not True," "Bald Headed Woman," "The Kids Are Alright," "Substitute," and "My Generation" while standing on a ramp. The show is directed by Peter Goldmann, later to direct the promotional films for The Beatles' "Strawberry Fields Forever" and "Penny Lane." It airs on Swedish television on two days later.
1967, The Doors "Light My Fire" was released in the US, it went on to reach number one on the singles chart two months later.
1967 Pink Floyd, Hydrogen Jukebox, and The Sun Trolley played to the largest crowd that the UFO Club had ever held. The Tottenham Court Road club in London was an early part of the London psychedelic scene. Jimi Hendrix, Eric Burdon, and Pete Townshend were among the rock stars in attendance.
1967, Janis Joplin performed at California Hall in Berkeley, California.
1967, Aretha Franklin went to the top of he US singles charts with her version of the Otis Redding hit "Respect." It was a top ten hit on the UK charts.

1967, Jefferson Airplane appear on American Bandstand, playing "White Rabbit" and "Somebody to Love."
1968, Valerie Solanas shot Andy Warhol and art critic and curator Mario Amaya at Warhol's studio in New York City. Solanas had been to see Warhol after asking for the return of a script which had apparently, been misplaced. Warhol was seriously wounded in the attack and barely survived.
1968, Pink Floyd performed at the Concertgebouw in Vissingen, The Netherlands, supported by Dragonfly.
1969, Yes appeared at the Bay Hotel, Sunderland, England.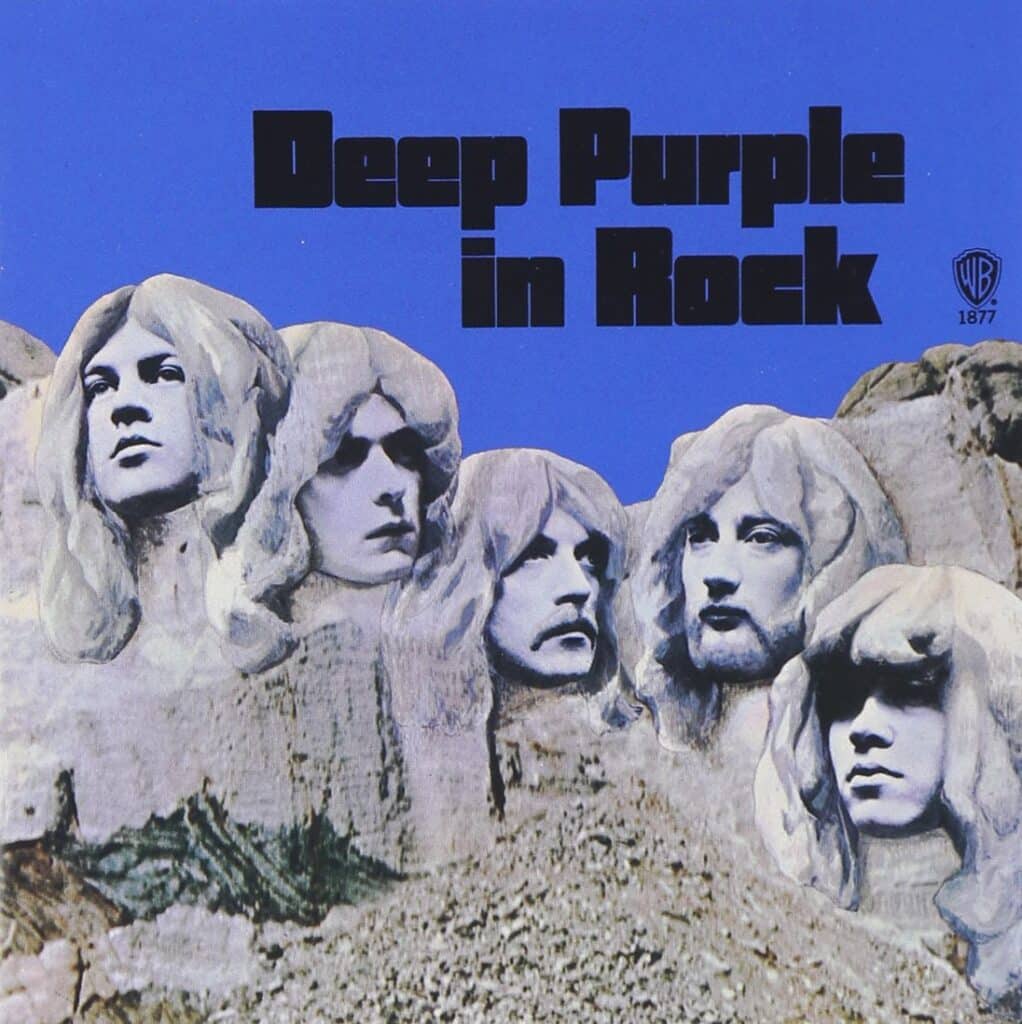 1970, Deep Purple released their fourth studio album Deep Purple In Rock. This was the first album to feature the classic Mk II lineup of – Ritchie Blackmore, Ian Gillan, Roger Glover, Jon Lord and Ian Paice.
1970, The Kinks' Ray Davies was forced to make a 6,000 mile round trip from New York to London to record one word in a song. Davies had to change the word "Coca-Cola" to "Cherry Cola" on the bands forthcoming single "Lola" due to an advertising ban at BBC Radio.
1971, The Band appeared at London's Royal Albert Hall during a European tour.
1971, King Crimson played at Winter Gardens, Bournemouth, England.
1972, Joe Cocker, The Beach Boys, Melanie, Richie Havens and Sha Na Na all appeared at the Crystal Palace Garden Party, England.
1972, Jethro Tull started a two-week run at number one on the US album chart with Thick As A Brick.
1972, Blue Oyster Cult and Aliotta, Haynes & Jeremiah performed at The Warehouse in New Orleans, Louisiana.
1972, The Rolling Stones kicked off their seventh North American tour at the Pacific Coliseum, Vancouver, Canada. The 32 date tour grossed $4 million (£2.5 m,) making it the richest rock tour in history.
1972, Family gospel group of father and three daughters The Staple Singers went to number one on the singles chart with "I'll Take You There."
1972, The Eagles release "Take It Easy."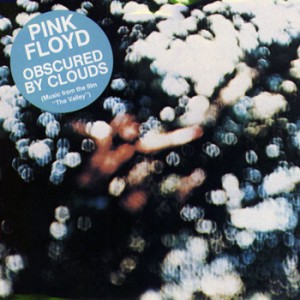 1972, Pink Floyd released the soundtrack to director Barbet Schroeder's Obscured by Clouds in the UK. The album which was recorded in Paris, France in less than two weeks, peaked at number six on the UK chart and number 46 on the US chart.
1972, David Bowie performed at City Hall, Newcastle Upon Tyne, England.
1973, Led Zeppelin played a three hour show at The Forum, Inglewood, California. The setlist: Rock and Roll, Celebration Day, (Bring It On Home intro) Black Dog, Over the Hills and Far Away, Misty Mountain Hop, Since I've Been Loving You, No Quarter, The Song Remains the Same, Rain Song, Dazed and Confused (incl. San Francisco), Stairway to Heaven, Moby Dick, Heartbreaker, Whole Lotta Love (incl. Let That Boy Boogie, I'm Going Down, I'm a Man, The Hunter), The Ocean, Communication Breakdown, Organ solo ~ Thank You.
1975, Aerosmith played at Market Square Arena, Indianapolis, Indiana.
1976, The Grateful Dead played at the Paramount Theater in Portland, Oregon.
1976, Yes headlined at the Omni Coliseum, Atlanta, Georgia.
1977, Rush performed at the Odeon Theatre, Birmingham, England.
1978, Genesis appeared at the Palais Des Sports, Dijon, France.
1979, Journey performed at War Memorial Auditorium. Syracuse, New York.
1980, Roxy Music played at the Palais Des Grottes, Cambrai, France.
1983, US session drummer Jim Gordon murdered his mother by pounding her head with a hammer. A diagnosed schizophrenic, it was not until his trial in 1984 that he was properly diagnosed. Due to the fact that his attorney was unable to use the insanity defense, Gordon was sentenced to sixteen years-to-life in prison in 1984. Gordon won Grammy Award for co-writing "Layla" with Eric Clapton. Gordon worked with The Beach Boys, John Lennon, George Harrison Frank Zappa and many other artists.
1989, The Fine Young Cannibals started a seven-week run at number one on the US album chart with The Raw & The Cooked.
1990, The Big Day, free festival took place in Glasgow, Scotland with Wet Wet Wet, Deacon Blue, Hothouse Flowers, Sheena Easton, Texas, Hue and Cry, John Martyn, Eddi Reader, The Average White Band and others.
1995, Bryan Adams started a five week run at number one on the US singles chart with"'Have You Ever Really Loved A Woman," Taken from the film Don Juan De Marco it became Adams third US solo chart topper, and a number four hit in the UK.
2002, Paul McCartney, Sting, Elton John, Brian Wilson, Cliff Richard, Ozzy Osbourne, The Corrs, Will Young, Atomic Kitten and S Club 7 all appeared at The Queen's Jubilee concert at Buckingham Palace, London.
2011, American singer, songwriter Andrew Gold died in his sleep aged 59 from a heart attack. Had the 1977 US number seven single "Lonely Boy," and the 1978 UK top five single "Never Let Her Slip Away."
Born on June 3: Allen Ginsburg (1926); Ian Hunter (1939); Curtis Mayfield (1942); Michael Clarke, The Flying Burrito Brothers, The Byrds (1943); Dave Alexander, bass, Iggy Pop And The Stooges (1947); Mickey Finn, T Rex (1947); Billy Powell, keyboards, Lynyrd Skynyrd (1952); David Cole, C & C Music Factory (1962); Mike Gordon, Phish (1965)