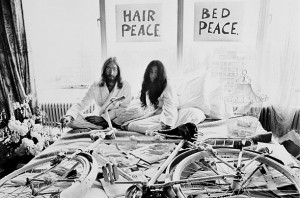 1969, John Lennon married Yoko Ono at the British Consulate Office in Gibraltar. They spent their honeymoon in Amsterdam campaigning for an international "Bed-In" for peace. They planned another "Bed-in" in the United States, but were denied entry. The couple then went to Montréal, and during a "Bed-in" at the Queen Elizabeth Hotel recorded 'Give Peace a Chance'. Lennon also detailed this period in The Beatles' 'The Ballad of John and Yoko', recorded by Lennon and McCartney on April 14, 1969.
1970, David and Angela Bowie were married at Beckenham Registry Office, London. They were divorced in 1980.
1970, The Grateful Dead performed at the Capitol Theater in Port Chester, New York.
1971,  The Rolling Stones placed full page advertisements at their own expensein all the UK's music papers disclaiming any connection with the release of the Decca album Stone Age saying "in our opinion the content is below the standard we try to keep."

1971, Janis Joplin started a two week run at number one on the singles chart with the Kris Kristofferson's "Me And Bobby McGee." The song is the second posthumous number one song of the rock era, reaching the top of the charts almost six months after Joplin's death on October 4th, 1970.
1973, Slade were at No.1 on the UK singles chart with "Cum On Feel The Noize," the group's fourth UK number one.
1976, Status Quo started a three-week run at No.1 on the UK chart with their third No.1 album Blue For You. The bands record label set up a deal with Levi Jeans, advertising in over 6,000 clothes shops to help promote the album.
1976, Alice Cooper married 19 year old Sheryl Goddard.
1977, Lou Reed was banned from appearing The London Palladium in England because of his punk image.
1977, T Rex played their final ever gig when they appeared at The Locarno in Portsmouth, England.
1980, 28 year- old Joseph Riviera held up the Asylum Records office in New York and demanded to see either Jackson Browne or The Eagles. Riviera wanted to talk to them to see if they would finance his trucking operation. He gave himself up when told that neither act was in the office at the time.
1982, Joan Jett And The Blackhearts started a seven week run at No.1 on the US singles chart with "I Love Rock 'n' Roll," a No.4 hit in the UK. The song had been a B-side from 60's band The Arrows.
1991, Eric Clapton's four year old son, Conor, fell to his death from the 53rd story of a New York City apartment after a housekeeper who was cleaning the room left a window open. The boy was in the custody of his mother, Italian actress, Lori Del Santo and the pair were visiting a friend's apartment. Clapton was staying in a nearby hotel after taking his son to the circus the previous evening. The tragedy inspired his song "Tears in Heaven."
Born on March 20: Lee "Scratch" Perry, reggae producer (1936); Jerry Reed (1937); Jimmy Vaughn (1949); Carl Palmer, ELP (1951); Fonso Martin, Steel Pulse (1956); and Chester Bennington, vocals, Linkin Park (1976)