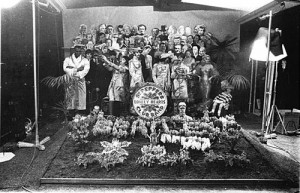 1967, The cover for Sgt. Pepper's Lonely Hearts Club Band is photographed at a studio on London's Flood Street, using cardboard cutouts and wax figures to represent the Beatles' heroes. The effigies featured include Edgar Allan Poe, Lenny Bruce, Vidal Sassoon, Laurel and Hardy, Bob Dylan, and Huntz Hall. After the shoot, The Beatles resumed work at Abbey Road studios on "With a Little Help From My Friends" adding guitars, bass, tambourine, and backing vocals. The session began at 11:00 pm and ends at 7:30 am.
1967, During an appearance by Jimi Hendrix on Top Of The Pops, a technician put on the backing track of Alan Price's "Simon Smith and His Amazing Dancing Bear," to which Hendrix responded "I don't know the words to this one man."
1968, The Who performed at the Westbury Music Fair in Westbury, New York.

1968, Sly & the Family Stone appeared at the Grande Ballroom, Detroit, Michigan.
1968, Buffalo Springfield played at the Fairgrounds Coliseum in Salt Lake City, Utah.
1968, Jimi Hendrix appeared at the University of Toledo Fieldhouse in Toledo, Ohio.
1969, Led Zeppelin played at the Farx Club in the Northcote Arms, in Southall, Middlesex, England. The support acts were Smokey Rice and Great Circle. The band's fee was to be £75 ($112.50) or 60% of the gate, whichever was greater.

1970, Led Zeppelin played at the Civic Arena in Pittsburgh, Pennsylvania. Prior to the show, the band's manager trashed twenty four bottles of champagne because they weren't Dom Perignon per the group's rider. The promoter was unable to get the famous brand and his $100 per bottle substitute was deemed "garbage" by Zep's manager.
1971, Yes appeared at the Civic Hall, Wolverhampton, England.
1972, The Allman Brothers Band played at Ladd Peebles Stadium, Mobile, Alabama.
1973, King Crimson headlined at Niedersachsen Halle, Hanover, Germany.
1974, The Ramones play their first-ever gig at New York's Performance Studio.

1974, John Denver went to number one on the singles chart with "Sunshine On My Shoulders," the singer's first of four chart toppers. Denver was killed when his experimental plane crashed on October 12, 1997.
1975, Genesis played at Saarlandhalle, Saarbrucken, Germany.

1976, The Sex Pistols played their first show at The 100 club, London, they begin a weekly residency in June.
1977, Pink Floyd performed the third of four nights at New Bingley Hall, Staffordshire County Showground, Stafford, England. Tickets cost £3.50.
1978, David Bowie appeared at Veterans Memorial Coliseum, Phoenix, Arizona.
1979, Van Halen played at Caldwell Stadium, Caldwell, Idaho.
1980, ZZ Top performed at the Capital Centre, Landover, Maryland.
1982, U2 played the second of two nights at the San Francisco Civic Centre, California.
1983, Rush appeared at Riverfront Coliseum, Cincinnati, Ohio.
1984, David Gilmour appeared on the Tyne Tees TV show The Tube, broadcast live from Newcastle upon-Tyne, England.
1985, Phil Collins started a two week run at number one on the US singles chart with "One More Night."It was his second US chart topper, and it made it to the fourth spot in the UK.
1992, R.E.M. started recording sessions for their Automatic For The People album at Bearsville Studios, Woodstock, New York.
2003, Linkin Park went to number one on the UK album chart with their third album Meteora. It was also a US chart topper.
2013, music producer and pioneer of digital recording, Phil Ramone, died aged 79. Ramone was regarded as one of the most successful producers in history, winning 14 Grammy awards and working with stars such as Ray Charles, Bob Dylan, Elton John and Paul McCartney. He produced the first major commercial release on CD, Billy Joel's 1982 album 52nd Street. Ramone had been hospitalized for several weeks, where he was being treated for an aortic aneurysm.
Born on March 30: Graeme Edge, Moody Blues (1942); Ken Forssi, American bass player, The Surfaris, Love (1943); Eric Clapton (1945); Jim "Dandy" Mangrum, singer, Black Oak Arkansas (1948); Dave Ball, English guitarist, Procul Harum (1950); Robbie Coltrane, Scottish actor, singer (1950); Re Styles, guitar, vocals, The Tubes (1950); Lena Lovich (1954); Stanley Kirk Burrell, aka MC Hammer (1962); Tracy Chapman (1964); Joey Castillo, American drummer, songwriter Queens of the Stone Age, Eagles of Death Metal, Danzig (1966); Celine Dion (1968); Adam Goldstein, American keyboard player, DJ, producer (1973); Mark McClelland, Irish bass player, Snow Patrol, Little Doses, The Reindeer Section (1976); Norah Jones (1979)