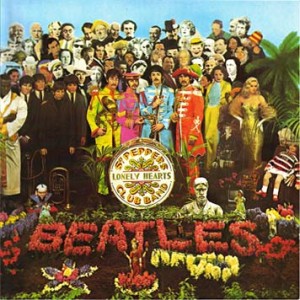 1967, The Beatles held a press party at manager Brian Epstein's house in London for the launch of the Sgt. Pepper's album. Linda Eastman was hired as the press photographer.
1967, Pink Floyd played at Club A' Go Go in Newcastle upon Tyne, Tyne and Wear, England.
1969, The Who appeared at The Rock Pile in Toronto, Ontario, Canada.
1970, New Riders of the Purple Sage, along with The Grateful Dead, performed at the Washington University Quadrangle in St. Louis, Missouri.
1971, Emerson, Lake And Palmer and Mott the Hoople played at the Peabody Opera House in St. Louis, Missouri.
1971, King Crimson performed at the Lyceum Ballroom in London.

1972, David Bowie appeared at Oxford Brookes University in Oxford, Oxfordshire, England.
1973, Stevie Wonder went to number one on the US singles chart with "You Are The Sunshine Of My Life." His third chart topper, it was the second single release from Talking Book.
1973, Paul Simon released the single "Kodachrome" which became a hit in the US, but was banned from airplay in the UK because it contained a brand name.
1973, Humble Pie played at Memorial Auditorium, Buffalo, New York.
1973, The Allman Brothers Band performed at Fairground Coliseum, Columbus, Ohio.
1974, The Grateful Dead performed at the Memorial Coliseum in Portland, Oregon.
1976, Bob Dylan played at Henry Levitt Arena, Wichita, Kansas.
1976, Rolling Stone Keith Richards crashed his car near Newport Pagnell, Buckinghamshire, England, after falling asleep at the wheel.
1976, Aerosmith performed at the Von Braun Civic Center, Huntsville, Alabama.
1978, Dire Straits released their first major label single "Sultans Of Swing."
1979, Van Halen appeared at The Spectrum, Philadelphia, Pennsylvania.
1979, Eric Clapton held a party at his Surrey house celebrating his recent marriage to Patti Boyd. Clapton had set-up a small stage in the garden and as the evening progressed, Paul McCartney, George Harrison and Ringo Starr ended up jamming together along with Clapton, Ginger Baker and Mick Jagger. The jam session comprised a selection of Little Richard and Eddie Cochran songs.
1979, Supertramp went to number one on the US album chart with Breakfast In America, the group's only chart topper.
1980, Black Sabbath played at City Hall, Newcastle-Upon-Tyne, England.
1980, Ringo Starr and his future wife, actress Barbara Bach were involved in a car crash less than half a mile from where Marc Bolan was killed, the car was totaled, but Starr and Bach were not seriously injured.
1982, Blue Oyster Cult appeared at Rudi Sedlmayr Halle, Munich, Germany.
1983, Roxy Music performed at Maple Leaf Gardens, Toronto.
1984, Bob Marley and the Wailers started a 12-week run at number one on the UK album chart with the compilation album Legend, released to commemorate the third anniversary of Marley's death. It reached the fifth spot in the US. Legend is the best-selling reggae album of all-time, with over 15 million copies sold in the United States and an estimated 25 million copies sold globally.
1988, James Brown was arrested for the fifth time in 12 months, following a car chase near his home, he was charged with assault, resisting arrest and being in charge of illegal weapons, he was given a 6 year jail sentence.
2001, Mike Sammes founder of The Mike Sammes Singers died aged 73. He worked with Tom Jones, Cliff Richard and featured on The Beatles' "I Am The Walrus" and "The Long And Winding Road."
2007, Lawyers for Michael Jackson dropped an effort to block an auction of the star's personal belongings and other Jackson family items. An agreement was reached with representatives of an auctioneer, who was the current owner of the materials, and a New Jersey man who claimed to own a warehouse full of Jackson memorabilia, after a failed business venture wound up in bankruptcy court.
2013, A guitar played by John Lennon and George Harrison sold for $408,000 at auction. The custom-made instrument, built in 1966 by VOX was bought by an unidentified US buyer in New York. Harrison played "I Am The Walrus" on the guitar in a scene from Magical Mystery Tour in 1967. Lennon used it in a video for "Hello, Goodbye" later that year. After playing the guitar, Lennon gave it as a 25th birthday present to Alexis "Magic Alex" Mardas, a member of The Beatles' inner circle in the 1960s.
Born on this day: Pete Townshend (1945); Tom Scott, saxophonist (1946); Greg Herbert, Blood Sweat & Tears (1947); Dusty Hill, ZZ Top (1949); Grace Jones and Joey Ramone (1952); and Philip Rudd, drums, AC/DC (1954)