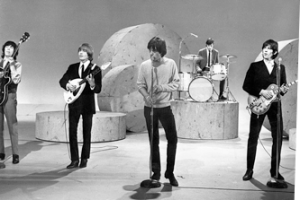 1964, The Rolling Stones appeared for the first time on The Ed Sullivan Show from New York, performing "Around And Around" and 'Time Is On My Side." A riot breaks out in the studio, prompting Sullivan's infamous quote, "I promise you they'll never be back on our show again." The Rolling Stones went on to make a further five appearances on Sullivan's show between 1965 and 1969.
1966, The Who appeared at Club Nalen in Stockholm, Sweden.
1967, The Who pre-record a mime job to "I Can See For Miles" for the BBC's Top of the Pops.
1968, Led Zeppelin play a gig at Surrey University, England. Although there are unconfirmed reports of earlier shows, this appears to be the band's first gig with their new name after initially performing as The New Yardbirds. In 2003 a poster for the Surrey gig (billing the group as The New Yardbirds) sells at auction for £2,400.
1968, Pink Floyd performed at The Boat House, in Kew, a part of London.

1968, The double album Electric Ladyland by the Jimi Hendrix Experience was released. It was also made available as two albums with changed artwork after complaints about the naked women who were pictured on the sleeve.
1969, "Sugar Sugar" by The Archies was at number one on the singles chart. It stayed at the top for eight weeks, selling over six million copies worldwide. The Archies were a rock group based on comic book characters. The song was co-written by Andy Kim, who had a number one single "Rock Me Gently" in 1974.
1969, Led Zeppelin play to their largest indoor crowd to date. At the Boston Garden, they perform before a crowd of 17,000 and rake in $45,000. Support comes from the MC5 and Johnny Winter.
1970, Pink Floyd played the last night of their Fall North American tour at the Boston Tea Party, in Boston, Massachusetts.
1970, The Who performed at the Empire Theatre in Liverpool, England.
1970, Speaking at a US radio conference, President Nixon asked programmers to ban all songs containing drug references.
1972, The Moody Blues played at the Boston Garden, Boston.
1973, The Grateful Dead appeared at the Dane County Coliseum in Madison, Wisconsin.
1974, Jefferson Starship performed at the Capital Centre, Landover, Maryland.
1975, Art Garfunkel was at number one on the UK singles chart with his version of "I Only Have Eyes For You." The song was written in 1934 for the film Dames, and a number two hit for Ben Selvin in 1934 and most notably a hit for The Flamingos in 1959.
1976, Rush played at the Paramount Theater, Seattle, Washington.
1978, At New York's Bottom Line Club, Keith Richards joins Rockpile for a jam onstage. The day before he had pleaded guilty to heroin possession in Toronto, but was given a one-year suspended sentence.
1979, Bob Marley and The Wailers played the first of four sold out nights at the Apollo Theater in Harlem, New York.
1985, R.E.M., The Smiths, and Tom Waits all appeared on The Tube, at Tyne Tree Television Studios, Newcastle, England.
1986, Bon Jovi went to number one on the US album chart with Slippery When Wet. Featuring two US chart topping singles, "You Give Love A Bad Name," and "Livin' On A Prayer." The album went on to sell over 8 million copies world wide.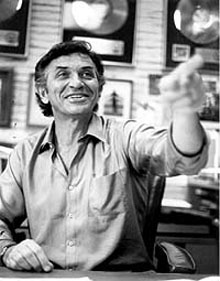 1986, Dire Straits guitarist, singer Mark Knopfler broke his collarbone after crashing in a celebrity car race before the Australian Grand Prix.
1991, Legendary Rock concert promoter Bill Graham was killed when the Bell 206B JetRanger III helicopter he was riding in struck the top of a Pacific Gas and Electric transmission tower near Sears Point, northwest of Vallejo and exploded. The crash, which left the helicopter's wreckage dangling near the top of the towering structure, killed Graham, his girlfriend Melissa Gold and pilot Steve Kahn. Graham had founded the Fillmore theaters in San Francisco and New York and had played key roles in supporting such bands as the Who, The Jimi Hendrix Experience, Janis Joplin, The Band, Bob Dylan, The J. Geils Band, The Allman Brothers Band and The Rolling Stones.
1992, Roger Miller died of died of lung and throat cancer in Los Angeles. He scored the 1965 UK number one and US number four single "King Of The Road." Miller won eleven Grammy Awards as a songwriter and seven Tony awards for writing the music and lyrics for Big River. The Proclaimers had the 1990 UK top ten hit with their version of "King Of The Road."
1997, After falling over on stage when reaching for a guitar pick, Johnny Cash announced during a gig in Michigan that he was suffering from Parkinson's disease.
2001, Thirteen law firms were still involved in claims to Grateful Dead's guitarist Jerry Garcia's $10 million estate six years after his death. Former wives and girlfriends continued to fight on how to distribute his estate and annual royalties of $4.6m.
2002, Richard Harris, who had the 1968 US number two and UK number four hit "MacArthur Park" died of cancer. The 72-year-old Irish-born actor had been undergoing chemotherapy at a private clinic in London. Though he charted three other times, Harris was better known for his acting roles on stage and film, including A Man Called Horse, and lastly playing Albus Dumbledore in two Harry Potter films.
2003, Johnny Cash's step-daughter, Rosey Nix Adams and her fiddle player Jimmy Campbell were found dead on their tour bus in Clarksville, Tennessee from Carbon monoxide poisoning. Heaters that had been left on were blamed for the accident.
2004, John Peel died in Cuzco, Peru of a heart attack, aged 65. He was BBC's longest-serving radio DJ and the first DJ to introduce The Ramones, Roxy Music, The Smiths, The Fall, Rod Stewart, Blur, the Sex Pistols, T. Rex and others to the masses. He founded Dandelion Records in 1969, which released records by Kevin Coyne, Bridget St John and Medicine Head. He was also known for his Peel Sessions, releases of live radio sessions. Peel was appointed an OBE in 1998.
2012, Forbes magazine reported that Michael Jackson topped their list of highest-earning dead musical celebrities by earning $145 million in the past year. Elvis Presley ranked second with $55 million in earnings, and Bob Marley at number three with $17 million.
Born on October 25: Helen Reddy (1941); Jon Anderson, Yes (1945); Glen Tipton, Judas Priest (1948); Richard Lloyd, guitar, vocals, Television (1951); and Chad Smith, drummer, Red Hot Chili Peppers (1962)