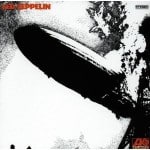 1968, Led Zeppelin, still working under the name of The Yardbirds, started recording their debut album at Olympic Studios, Barnes, London, England. The album took only about 36 hours of studio time to complete at a cost of around £1,782, with most of the tracks being recorded "live" in the studio with very few overdubs.
1968, The Amboy Dukes performed at the Grande Ballroom in Detroit, Michigan.
1969, Blind Faith started a two-week run at number one on the chart with their self-titled debut album. The only release from the Eric Clapton, Steve Winwood, Ginger Baker, and Rick Grech line-up also reached the top spot in the US. Their only UK gig was in Hyde Park, London on June 7, 1969.
1969, Pink Floyd performed two shows (9 and 11 PM) at Concertzaal de Jong, Groningen, The Netherlands, supported by Dream.
1969, During a meeting in London between John Lennon, Paul McCartney and Ringo Starr, Lennon announced he was leaving The Beatles.

1969, UK music paper Melody Maker readers poll results were published. Winners included Eric Clapton who won best musician, Bob Dylan best male singer and best album for Nashville Skyline. Best group went to The Beatles, Best single went to Simon and Garfunkel for "The Boxer" and Janis Joplin won Best female singer.
1970, The Rolling Stones live album Get Your Ya-Yas Out started a two-week run at number one on the UK album chart. It was sourced from shows recorded at New York's Madison Square Garden on the 27th & 28th of November 1969, featuring "Jumpin Jack Flash," "Honky Tonk Woman," and "Midnight Rambler."
1970, Jim Morrison of The Doors was acquitted on charges of lewd and lascivious behavior, but was found guilty of exposing himself during a concert at The Dinner Key Auditorium in Coconut Grove, Florida a year and a half earlier. At his trial at the Dade County Courthouse in Miami, Judge Goodman sentenced Morrison to six months hard labor and a $500 (£270) fine for public exposure, and sixty days hard labor for profanity. The sentence was appealed, but Morrison was never brought to trial, as he would die in Paris France on July 3, 1971.
1970, An event called the Berlin Airlift was held at RFK Stadium in Washington, DC, headlined by Grand Funk Railroad. Also on the bill, the Allman Brothers Band, Pacific Gas & Electric, Crow, and many local bands.
1970, The Allman Brothers Band performed at RFK Stadium in Washington, DC.
1972, Paul and Linda McCartney were arrested for the second time in four weeks for possession of cannabis at their Scottish farmhouse in Campbeltown.
1973, King Crimson played at the Capitol Theatre, Montreal, Canada.
1973, On his way to perform his second concert of the day, US singer, songwriter Jim Croce was killed with five others when his chartered aircraft hit a tree on take off in Louisiana.
1974, Aerosmith performed at Expo Hall in Tampa, Florida.
1975, David Bowie notched his first numberone in the US with "Fame." The song was co-written with John Lennon.
1975, Janis Ian went to number one on the US album chart with Between The Lines.
1975, The Bay City Rollers made their US TV debut when they appeared on the Saturday Night Variety Show.
1976, The first of the two night 100 Club Punk Festival, Oxford Street, London, featuring The Sex Pistols, The Clash, Sub Way Sect, Suzie (spelling on the poster), And The Banshees, The Buzzcocks, Vibrators and Stinky Toys.
1976, AC/DC played at the Konserthuset, Stockholm, Sweden.
1976, AC/DC released their third studio album Dirty Deeds Done Dirt Cheap. The album has been certified 6x Platinum in the United States, which means that it has sold at least 6 million copies, becoming the third highest sold album by AC/DC in the US after Highway To Hell and Back In Black.
1977, Yes played at Memorial Coliseum, Portland, Oregon.
1978, Bob Dylan appeared at the Boston Garden, Boston.
1980, Roger Daltrey's second single from his McVicar LP hits the U.S. charts. The gentle ballad "Without Your Love," a cover of a Billy Nicholls' song from Pete's Meher Baba tribute LP With Love, becomes Roger's biggest solo hit in the U.S. peaking at number 20 in Billboard and number 23 in Cash Box. The flip side is "Escape Part 2."
1980, Queen started a five-week run at number one on the album chart with The Game, the group's only US chart topping album.
1982, The Grateful Dead performed at Madison Square Garden in New York.
1994, The Dave Matthews Band released Under the Table and Dreaming. The album featured their first commercial hits "What Would You Say," "Satellite," and "Ants Marching." The album was dedicated to Matthews' older sister Anne, who was killed by her husband in 1994 in a murder-suicide.
2005, Canadian JD Fortune, beat two other finalists to become the new lead singer with INXS after a worldwide search to replace the late Michael Hutchence. INXS held auditions in six continents as part of a reality TV series.
Born on this day: Bobby Nunn, singer, The Coasters (1925); Michael Oldroyd, Manfred Mann's Earth Band (1946); Chuck Panozza, John Panozzo, Styx (1949); Alannah Currie, vocals, sax, The Thompson Twins (1959) Ben Shepherd, Soundgarden (1968)