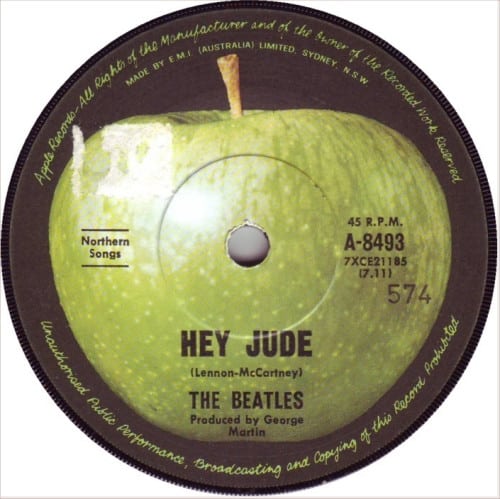 1968, The Beatles started a nine week run at number one on the singles chart with "Hey Jude." The Paul McCartney penned tune was about Lennon's son Julian, and gave the Fab Four their sixteenth chart topper, and the biggest selling single of 1968.
1968, The Rascals went to number one on the album chart with Time Peace / The Rascals' Greatest Hits.
1968, Bruce Springsteen and a local folk rock group The Founders appeared at the Off Broad Street Coffee House in Red Bank, New Jersey.
1969, Pink Floyd played at Theater 140, Brussels, Belgium.
1970, Yes appeared at the University Of South Wales, Aberystwyth, England.
1970, Pete Townshend writes out the scenario for The Who's next project, the film Lifehouse. "OVERTURE: The farmers — Life — Beauty — Celebration, LIFEHOUSE: The City — Rock — Youth against finance — Individuals working for the whole, GLORIFICATION: They disappear — they triumph, leaving everyone behind." He sends a copy to co-manager Chris Stamp along with details on how the members of The Who would fit into the movie and how filming might be handled. That project never came to fruition, and the songs became the basis for Who's Next, released in 1971.
1971, Led Zeppelin played the first of two nights at the Festival Hall in Osaka, Japan.

1971, The Who open their fall U.K. tour at the Free Trade Hall in Manchester, England.
1972, Hawkwind performed at the Paris Theatre, London.
1973, The Rolling Stones appear at Olympiahalle, Munich, Germany.
1974, Bad Company went to No.1 on the album chart with their self-titled debut album. Paul Rodgers and Simon Kirke had come out of Free, while Mick Ralphs had played guitar with Mott the Hoople, and Boz Burrell played bass for King Crimson before the group formed in 1973. They produced six albums together before disbanding in 1983.
1974, Canadian singer Andy Kim went to No.1 on the singles chart with "Rock Me Gently," Kim was the co-writer of The Archies' "Sugar Sugar."
1976, The Grateful Dead performed at Onondaga County War Memorial in Syracuse, New York.
1976, A&M Records sued George Harrison for $6 million over non-delivery of a new album after he missed the deadline by two months.
1977, Aerosmith performed at Rupp Arena, Lexington, Kentucky.
1978, AC/DC appeared at War Memorial Auditorium, Rochester, New York.
1979, Van Halen played at Don Barnett Arena, Rapid City, South Dakota.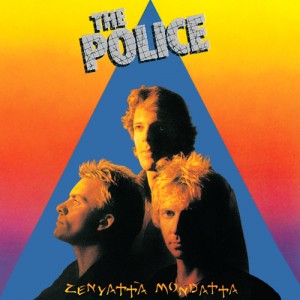 1980, The Police were at No.1 on the singles chart with "Don't Stand So Close To Me" the group's third No.1. It appeared on their album Zenyatta Mondatta and was the best selling single of 1980.
1981, Van Halen performed at Veterans Memorial Coliseum, Phoenix, Arizona.
1985, Kate Bush scored her second UK No.1 album with Hounds Of Love. The singer's second No.1 album featured the tracks "Running Up That Hill," "'Cloudbusting," "Hounds of Love," and "The Big Sky."
1987, U2 played the first of two nights at Madison Square Garden in New York City during their Joshua Tree world tour.
1991, American jazz trumpeter, bandleader, and composer Miles Davis died of a stroke and pneumonia. His 1959 album Kind of Blue, was a major influence on jazz music.
1991, Guns N' Roses released two albums, Use Your Illusion I and 'Use Your Illusion II, which debut at number 1 and number 2 on the UK album chart. Both albums reached No.1 & No.2 in the US.
1991, On the week of their album Nevermind being released, Nirvana made an appearance at the Tower Records store in New York City and then played a show at The Marquee Club in New York. Their single "Smells Like Teen Spirit" had also entered the US Top 20 this week.
2000, As part of their UK Under A Big Top tour, Radiohead played the first of two nights at Glasgow Green in Scotland.
2008, Kings of Leon started a two week run at No.1 on the UK album chart with Only by the Night, the band's fourth studio album.
2009, Adam Goldstein, aka DJ AM., American club DJ and musician, died of an accidental drug overdose at home in New York City aged 36. Had worked with Blink 182, Crazy Town, Madonna. Goldstein had survived a plane crash along with Blink 182 drummer Travis Barker in September 2008.
Born on September 28: Ed Sullivan (1902); Ben E. King (1938); Nick Nicholas, Steppenwolf (1943); Paul Burgess, drums, 10cc (1950); and Melody Thornton, singer, The Pussycat Dolls (1984)