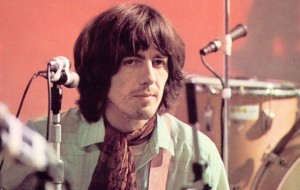 1966, The Who begin the week at The Palais in Ilford, Essex, England. Earlier in the day they record performances of "I'm A Boy" and "Heatwave" for British television's Ready, Steady, GO!
1968, Working at Abbey Road studios in London, The Beatles recoded overdubs onto the new George Harrison song "While My Guitar Gently Weeps." Eric Clapton added the guitar solo and became the first outside musician to play on a Beatles recording and George recorded his lead vocal.
1969, James Brown announced he would retire from live performances in July the following year saying "I'm tired man."
1969, The Allman Brothers Band played at Electric Zoo in St. Petersburg, Florida.
1970, Jimi Hendrix made his final live appearance when he appeared at the Isle Of Fehmarn in Germany. The guitarist died on Sept 18, 1970 after choking on his own vomit.

1970, The Rolling Stones performed at at Liseberg Amusement Park in Gothenburg, Sweden.
1972, David Bowie appeared at Top Rank Suite, Sheffield, England.
1973, Jethro Tull played at Cobo Arena, Detroit, Michigan.
1974, The 101 All Stars, featuring Joe Strummer, made their debut at The Telegraph, Brixton Hill, London.
1975, Glen Campbell started a two week run at number one the US singles chart with "Rhinestone Cowboy," his first chart topper after thirteen Top 40 hits.
1975, Jefferson Starship went to number one on the album chart with Red Octopus.
1975, Rod Stewart was at number one on the UK singles chart with his version of the Sutherland Brothers song "Sailing." The song had been featured in the BBC TV series about HMS Ark Royal.
1977, Rush appeared at Fort William Gardens, Thunder Bay, Ontario, on the shores of Lake Superior.
1978, Record producer Tom Wilson died. He worked with various acts including Bob Dylan, The Times They Are a-Changin', Another Side of Bob Dylan, and Bringing It All Back Home, Frank Zappa, Freak Out!, Simon and Garfunkel Wednesday Morning, 3 A.M. and The Velvet Underground, White Light/White Heat.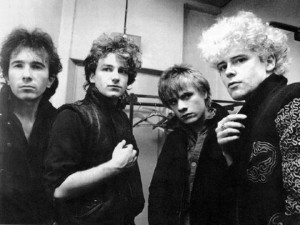 1980, U2 kicked off the first leg of their 29 date UK Boy tour at the General Woolfe in Coventry, England.
1980, The Grateful Dead played at the State Fairgrounds, in Lewiston, Maine.
1980, The Jam were at number one on the UK singles chart with "Start!," the group's second UK chart topper and taken from the band's fifth album Sound Affects.
1985, Desperately Seeking Susan went on general release in the UK. The movie featured Madonna and Rosanna Arquette. The filmmakers had initially wanted Diane Keaton and Goldie Hawn to play the roles of Roberta and Susan. However, director Susan Seidelman decided to cast relative newcomers Rosanna Arquette, in her sixth film role, and Madonna, in her third film appearance, but first starring role.
1986, All girl group Bananarama went to number one on the US singles chart with "Venus." The song had also been a chart topper for Dutch group Shocking Blue in 1970.
1990, Tom Fogerty, guitarist with Creedence Clearwater Revival, died aged 49, due to complications from AIDS acquired during a blood transfusion. During 1969, CCR scored three US Top Ten albums and four Top 5 singles.
1994, English keyboard player Nicky Hopkins died aged 50, in Nashville, Tennessee, of complications from intestinal surgery. Hopkins was a highly respected session musician, worked with The Rolling Stones, Jeff Beck, The Beatles, The Who, The Kinks, Small Faces, Led Zeppelin, John Lennon, George Harrison, and the Jerry Garcia Band. The Kinks song "Session Man" from Face to Face is dedicated to, and features Hopkins.
1997, Elton John recorded a new version of "Candle In The Wind" after performing the song live at Diana, Princess of Wales' funeral. An estimated 2.5 billion people around the world watched Elton play the special tribute to Diana. The track went on to become the biggest selling single of all-time.
2008, US rock band Great White whose pyrotechnics sparked a fire that killed 100 people, agreed to pay $1 million (£564,000) to survivors and victims' relatives. The blaze began at The Station nightclub in the Rhode Island in 2003, when the band's tour manager shot off pyrotechnics at the start of the concert. More than 200 people were also injured in the blaze. One band member, guitarist Ty Longley, was killed in the fire. Tour manager Daniel Biechele pleaded guilty in 2006 to 100 counts of involuntary manslaughter and was given parole in March after serving less than half of his four-year prison sentence.
2011, A California judge ruled that Madonna does not hold a trademark over the phrase "Material Girl" for her line of clothing just because she wrote a song by that name in 1985. A Los Angeles retailer called LA Triumph has been using the name "Material Girl" clothing and has registered it as a trademark.
Born on September 6: Jimmy Reed (1925); Dave Bargerdon, Blood Sweat & Tears (1942); Roger Waters (1943); Claydes Smith, Kool & The Gang (1948); Pal Waaktaam, guitar, A-ha (1961); Scott Travis, drummer Judas Priest, Racer X (1961); Macy Gray (1969);