Uncle Marty here on adventure Number 592 of The 3D RadioActivity, as we continue to observe our Musical Memorial Day. On this, episode #4 in the series, we pay tribute to the memory of the artists who've left us in the past 12 months by playing cuts from their discography.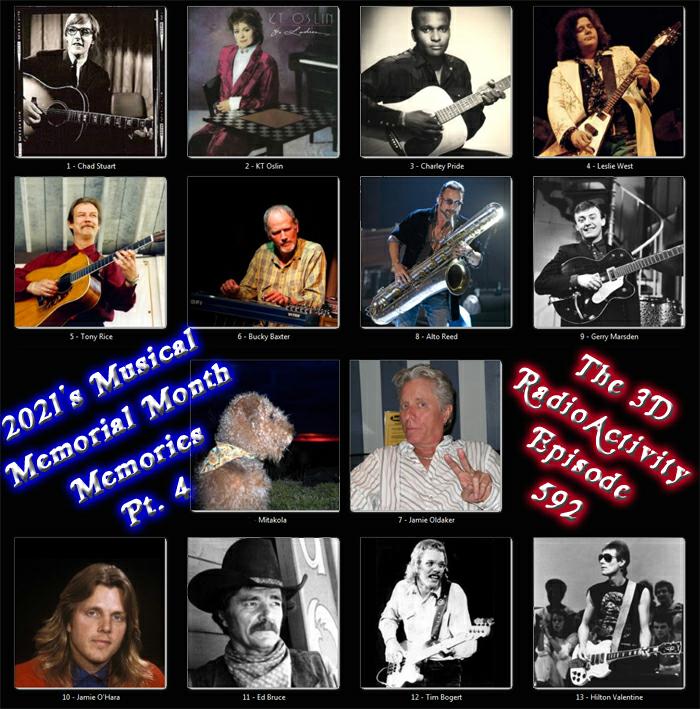 There's over a dozen souls who have left, as we near our Musical Memorial Memories finish line for this year, we'll return with one more program before dipping into Summertime Seconds where we revisit earlier features with cuts that we didn't have time to play earlier, like Wait, Way, and Will… I'm smelling a theme, We shall see what comes around! If you've got a scent of what's cooking, then tell me by sending email, or with a message on our Facebook page which has links to the archives of all the earlier episodes and airedorable graphics in the photo section. My wingman and spokesdog Daytona reminds you to tell your father, mother, sisters and brothers to be sure to look for us on Denver's MileHiRadio, Theacidflashback, TuneIn and InternetFM dot com, because the best FM radio is now on the Internet.
Until we meet again, Keep Rockin' On!
"It's not true I had nothing on, I had the radio on."
…Marilyn Monroe