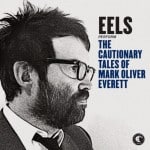 Song Of the Day by Eric Berman – Album Review: The Cautionary Tales Of Mark Oliver Everett by Eels

(Editor's note: This review originally was published on April 29, 2014)
I love Eels. Mark Oliver Everett (aka "E" aka "Eels") is a terrific songwriter with an interesting back story which has become the basis for subject matter on his finest albums including Hombre Lobo, Blinking Lights And Other Revelations, Daisies In The Galaxy, Electro-Shock Blues and Souljacker.
However, Everett has been making essentially the same record now for the last few years, and as a fan of the man and the band, most of the records have much to offer especially upon repeated spins. Yet this year's model, The Cautionary Tales Of Mark Oliver Everett is a ballad-laden entity, totally bereft of the gnarly rockers that many have come to love Eels for.
Eels have been very prolific over the last few years and what initially seemed like a boom for fans several years ago when they released three records in the span of 12 months has now begun to weigh heavily on the quality of their output which is getting a little tiresome. The suite of three albums from 2011-12 focused on three different aspects of Everett's life: lust (Hombre Lobo), middle age (End Times) and optimism (Tomorrow Morning). Unfortunately, on Cautionary Tales, we get to reexamine the very same relationship territory in a musically much less interesting manner.
Don't get me wrong, E is always good for a few classic Eels songs per record, and this one is no different with tracks like "Parallels," "Where I'm From," "Answers," "Series Of Misunderstandings" and "Mistakes Of My Youth," all early contenders for a coveted place high within the Eels canon. But there's a sameness to the new Eels material that's hard to shake making it also very hard to get through. (C'mon E! Eels records shouldn't be and never were a chore to listen to!)
Gone are the hummable melodies, ecstatic outbursts of pure abandon and wiggy instrumentation that has traditionally made most of Eels output a joy to listen to. In its place is a collection of mostly acoustic based songs that don't change that dynamically from one to the other. Add to that, E's growl of a voice has gotten rougher and less emotional which also weighs down this collection of stylistically very heavy and downtrodden songs.
The album is framed by three tracks, the superfluous opening instrumental "Where I'm At," "Where I'm From" in the center of the record, and "Where I'm Going" at the end, however the feeling one gets from listening to the whole record is "I've been here before and I'm still in the same place."
Adding to the album's thirteen track tune stack is an additional seven new tracks (plus six live songs from their Wonderful Glorious tour) on the bonus addition. That's twenty new songs adding up to some serious (and I mean very serious) material to sift through.
The Cautionary Tales Of Mark Oliver Everett is the opposite of Eels last wonderful and glorious outing Wonderful Glorious. It would be great if the upcoming Eels tour featured a solo acoustic segment where many of the new songs would benefit from an intimate presentation, however as the latest chapter in the Eels story, you should proceed with caution with Cautionary Tales.
FULL ALBUM: