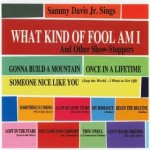 It's the wham of Sam, from the musical Bye Bye Birdie.
Without Sammy Davis Jr., there wouldn't have been a James Brown or Prince. He was clearly the most talented of the Rat Pack by a mile…could sing circles around Frank and Dino…and had the moves and comedic talents to make him the total entertainment package. He was in a word, a dynamo!
Davis was born into a family of vaudevillians, and he began his career dancing as part of the family act at the age of three. Over the years, he gained popularity as a standout in the act which led to a recording contract with Decca Records and the lead role in the Broadway Musical, Mr. Wonderful.
By the late 1950s, Davis was rubbing shoulders with Frank Sinatra, Dean Martin, Joey Bishop and Peter Lawford, and the media began referring to them as The Rat Pack. Together, they all had a jolly old time while breaking down the racial barriers in the entertainment world. When Sinatra formed his own Reprise record label in 1961, Davis was one of the first artists he signed.
This swingin' gem comes from Sammy's 1962 Reprise album What Kind Of Fool Am I. The album, a collection of twelve songs from the Broadway stage, proved to be one of his most popular landing at #14 on the album charts. The album included  "Once In A Lifetime," "Begin The Beguine" with a spare percussive arrangement, and the very groovy "Gonna Build A Mountain," songs that would remain amongst his most requested performances for the rest of his career.
The album's title track would go on to become one of Davis' signature songs, but it is today's Song Of The Day that is the essence of cool hipness, as Sammy effortlessly swings against a sturdy Marty Paich arrangement. This album was issued on CD, along with most of the rest of his Reprise recordings, in 2004 by Collectors' Choice Music.