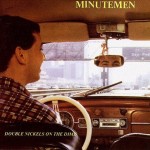 I've been spinning tracks by San Pedro's Minutemen all day, since it was 27 years ago today (12/22) that lead singer, D. Boon, died in a car wreck. Minutemen were such an important band to me and my cohort back in the early 1980s. They were a band that cut through the image-centered video-centric MTV acts that dominated the music scene, with a healthy dose of punk rock realism.
D. Boon was a visionary poet who regularly tackled the subjects of racism, politics and the plight of the working man, while musically he had a mean streak of funk running through his veins. With super bassist Mike Watt and "the funky drummer" George Hurley by his side, this punk rock political power trio totally changed the way I listened to music.
In action, D. Boon would lumber over and pulverize his guitar in a hyperactive fury of flying sweat, while Mike Watt would anchor the songs totally locked-in with George Hurly like the precision funk machine these two literally were. I saw them several times at the legendary Hoboken, NJ club, Maxwells, and even got to meet D. Boon once when he came out after a show to hang with the fans. First time I saw them was at the now-defunct New York City club, The Peppermint Lounge, which was also a hot spot for dancing during the '70s disco era.
Today's Song Of The Day comes from a Minutemen album, that in my estimation, is one of the most important records of the 1980s. The sprawling 1984 double album, "Double Nickels On The Dime," is a non-stop festival of jazz, country, folk, funk and punk that is spot-on lyrically, and musically all over the map (in the best way possible). It's an exhaustive 45 track stew with low-key musings ("History Lesson Pt. 2"), cow-punk guitar rave-ups ("Corona" – better known as the them to the MTV series Jackass),rocking diatribes ("Political Song For Michael Jackson To Sing,") and low-down funk ("Jesus And Tequila") – and that's barely the tip of the iceberg.
If you've never heard of Minutemen before, the excellent documentary "We Jam Enono – The Story Of The Minutemen" is essential viewing, featuring hours of rare footage, classic interviews and interviews with the surviving members of the band.