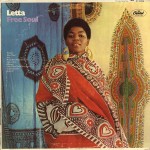 Voices like Laura Nyro's only come around once in a lifetime…or so I thought…
So, while listening to a compilation of David Axelrod's 1960s productions, my ears perked up when I heard the sound of Letta Mbulu's voice. At once, I knew I needed to hear more and learn more about whom this afro-pop princess is, and discover as much of her music as possible.
But first, I'll digress…David Axelrod is a composer and producer, best known for working with Lou Rawls and Cannonball Adderly in the 1960s while employed by Capitol Records. Letta Mbulu was introduced to him by Cannonball Adderly, who had seen her perform at The Village Gate in New York City, but I'm getting ahead of myself.
Hailing from Soweto, Mbulu was forced out of her country in 1965 due the Apartheid and came to the United States. In her native country, she gained notoriety by performing in the popular musical, King Kong, for several years. Settling in New York City, she was welcomed by fellow King Kong cast members Miriam Makeba and Hugh Masakela, who began to help her get established in her new country.
After touring with Cannonball Adderly, Axelrod signed her to Capitol Records, where she recorded her first album "Letta Mbulu Sings" in 1967. While the album didn't get much traction in this country, she was afforded an opportunity to record a follow up, the afro-pop classic Free Soul in 1968, where today's Song Of The Day is from. It was around this time the decision was made for her to drop her last name on records, in the hopes she might be able to gain more airplay.
Following her stint with Capitol, Mbulu recorded several records for the Chisa label in the early 1970s. After Chisa folded, she followed Cannonball Adderly to the Fantasy label where she released the album Naturally in 1973. From there, Hugh Masakela brought her to the attention of Herb Alpert, who signed her to his A&M label where she released several albums, including a high profile appearance on Quincy Jones' soundtrack to Roots.
She returned back to Africa in 1991 after 26 years with her husband, Caiphus Semenya, where she continues to record and performs today. Mbulu is also the singer who provided the Swahili chant on Michael Jackson's single, "Liberian Girl."