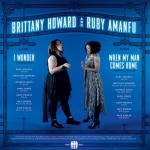 Yesterday I wrote about a single from Jack White's Third Man Record label by Gibby Haynes of The Butthole Surfers. The record was a recent release in Third Man's "Blue Series" of 45rpm releases.
Over the past few years, Third Man has released interesting one-off singles by the likes of Beck, Tom Jones, Stephen Colbert, Jeff The Brotherhood, Wanda Jackson, Chris Thile & Michael Davis, Laura Marling and Insane Clown Posse in the "Blue Series." Typically the records are produced by Jack White and are recorded very quickly during stop offs at the Third Man headquarters by artists passing through town on tour.
The latest "Blue Series" single marks the pairing of Brittany Howard of Alabama Shakes with Ruby Amanfu of Jack White's all-female band The Peacocks. Amanfu is also the vocalist who shares the spotlight with Jack White on his "Love Interruption" single.
The two-song single features "I Wonder" on the A-Side, which is a rip-roaring cover of a song by Rodriguez who is the subject of the Oscar winning documentary Searching for Sugar Man. The original version of "I Wonder" appeared on Rodriguez's 1970 debut album, Cold Fact.
Today's Song Of The Day is the flip of the single, "When My Man Comes Home" which is a Memphis Minnie blues cover. Both songs feature backing by The Buzzards, White's all-male touring band including Dominic Davis on bass, Daru Jones on drums, Cory Younts on piano, Ikey Owens on keyboards and Fats Kaplin on guitar. The vinyl-only single is available via mail order at Third Man Records website.