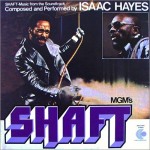 This breezy instrumental comes from the movie Shaft, one of the most popular Blaxploitation films of all time. However, most people probably first discovered today's Song Of The Day on the B-side to Isaac Hayes' number one single "Theme From Shaft."
Hayes initially agreed to write the score for the film only if he was given the chance to try out for the lead role. And while he did have a bit part in the film as a bartender, he was never afforded the opportunity to audition for the lead. Fortunately he decided to fulfill the agreement anyway.
Isaac Hayes was the backbone of Stax Records, who with his partner Dave Porter,  wrote classic songs like "Soul Man," "When Something Is Wrong With My Baby" and "Hold On, I'm Coming." He also produced numerous hits for the label by the likes of Otis Redding, Sam & Dave, Booker T & The MG's, Carla Thomas and many others.
Hayes brand of symphonic soul was perfect for love making, and numerous children were no doubt conceived to the strains of his extended recordings of "Walk On By," "By The Time I Get To Phoenix" and "Never Can Say Goodbye," from classic albums like Black Moses and Hot Buttered Soul.
But it his voicing of the lovable character "Chef" on South Park for nine seasons, that gave his career a second life, culminating in a late-career hit with his South Park recording, "Chocolate Salty Balls."
Today's Song Of The Day features a classic Hayes arrangement expertly performed with the help of two of Stax's most durable studio groups, The Bar-Kays and The Movement. And while the Shaft soundtrack is clearly not one of his best records, it does include the title theme, today's Song Of The Day, plus the essential album tracks "Soulsville" and the epic 19-minute "Do Your Thing."