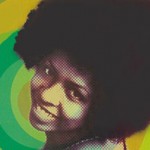 She doesn't do windows, and for that matter she doesn't even clean houses. But the "Clean Up Woman" of Betty Wright's top-ten hit from 1971 sure 'nuff cleaned up on the charts!
Bessie Regina Norris (aka Betty Wright) got her start as a three year old member of her family Gospel group The Echoes Of Joy who recorded albums during the early 1960s. By the time she was a young teen, she was scoring minor regional hits including her first Top 40 hit in 1968 with "Girls Can't Do What the Guys Do" and an album called My First Time Around.
But it wasn't until the age of 17 in 1971, that Betty Wright scored her signature hit (and today's Song Of The Day) "Clean Up Woman."  The song was  written by Clarence Reid and Willie Clark a became a huge hit (#2 R&B, #6 Pop) which went on to be one of the most sampled records of all time sporting appearances on hit recording by Afrika Bambaattaa, SWV, Mary J. Blige and Sublime.
Throughout the 1970s, Wright struggled to come up with a record as potent as "Clean Up Woman," but managed to score with a self-penned hit "Baby Sitter" (#6 R&B, #50 Pop) and "Let Me Be Your Lovemaker" (#10 R&B, #50 Pop) that exemplified her ease singing in the whistle register (the highest register of the human voice).
But it wasn't until she began to release disco records that Wright's career began its second resurgence with the Grammy Winning Best R&B song "Where Is The Love," which was co-penned by Harry Wayne Casey and Richard Finch of KC & The Sunshine Band.
She had greater success overseas, particularly in the U.K. with her 1974 disco album Danger! High Voltage!  The album included the hits "Shoorah! Shoorah!" and "Tonight Is The Night," which charted twice in a studio version and then again as a live version with monologue that climbed to #11 on the R&B charts in 1978.
Wright also recorded a duet with Alice Cooper in 1978 and opened for Bob Marley during his Survival Tour. After success with the Stevie Wonder written hit "What Are You Gonna Do With It," she also contributed vocals to the Richard "Dimples" field hit "She's Got Papers On Me."
In the late 1980s, Wright formed her own "Miss B" record label and became the first black female to score a gold album on her own label with Mother Wit. In 2006, she was appointed by Sean Combs as a mentor on the TV show Making Of The Band leading to work contributing songwriting, backing vocals, production, and engineering work to albums by Gloria Estefan, Erykah Badu, Regina Belle, David Byrne, Jennifer Lopez, Lil Wayne and Joss Stone (whose Mind, Body & Soul album won a Best Pop Album Grammy Award).
Her 2011 album, Betty Wright: The Movie was recorded The Roots and was nominated for a Grammy Award, as was the single "Surrender." With a glorious set of pipes, and tons of talent to spare, Betty Wright is one "Clean Up Woman" who continues to leave a spotless legacy in her wake.