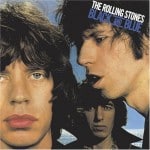 Today's Song Of The Day comes from the Rolling Stones' 1976 album Black And Blue. Next to Goats Head Soup, the album stands as one of the most maligned Rolling Stones releases of the 1970s. That assessment is totally unfair since the album actually is one of the most varied and forward looking records in their catalog, featuring two superb ballads, two terse rockers and several songs that add reggae, soul, funk and disco into the mix.
Many of the record's songs stemmed from studio jams that were recorded while trying out new guitarists to replace Mick Taylor, and guitarists Wayne Perkins and Harvey Mandel turn up on half of the tracks. The record is also Ron Wood's first album as a member of the Stones and his guitar is heard on the other half of the tracks. (Steve Marriott and Peter Frampton also auditioned for the band; however they do not appear on the record at all.) It is also Billy Preston's most visible album as a Stones sideman and his vocals and piano playing turn up on most of the tracks, especially on "Melody" which carries the credit "inspiration from Billy Preston."
The marketing campaign leading up to Black And Blue's release included a controversial billboard on Sunset Boulevard in Hollywood depicting model Anita Russell black and blued and tied up with the caption "I'm Black And Blue from the Rolling Stones — and I love it!" The billboard attracted protests from Women Against Violence Against Women, and was ultimately taken down. The billboard's central image was also the focal point of the album's print campaign, and it turned up in magazines and newspapers all over the world.
Today's Song Of The Day, "Hot Stuff" was the second single from the album and one of the band's first forays into funk and disco. The track features lyrically effervescent soloing courtesy of Harvey Mandel, and the tail end of the track features some of Jagger's greatest vocals ever. (In the video, Wood is seen playing Mandel's solo.)
The album also includes two of the band's most sturdy ballads, the super melodic top-ten "Fool To Cry" featuring wonderful falsetto vocals by Jagger, and "Memory Motel" which features dueling vocals by both Jagger and Richards. Both songs received deserved radio airplay, and are the only two songs on the record that were formally written and less the result of studio jams.
Richards gets his reggae on with a cover of Eric Donaldson's 1971 classic "Cherry Oh Baby," and the two rockers "Hand Of Fate" and the album's closer "Crazy Mama" stand head and shoulders tall with some of the group's very best.
Elsewhere, the band tries their hand at gnarly funk on "Hey Negrita" (which is credited with inspiration from Ron Wood) and some very loose pseudo lounge jazz on "Melody."  Both songs show their jam-based roots more than the others on the record.
After its release, the album spent four weeks at #1 in U.S., and the single "Fool To Cry" reached the top ten on the charts. While certainly a transitional effort, the album paved the way for the band's 1978 mega comeback record, Some Girls and its chart-topping single "Miss You."